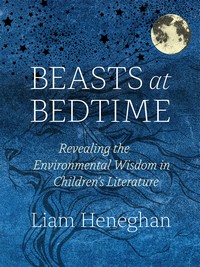 Within the entertaining pages of many children's books lie profound teachings about the natural world that can help children develop an educated and engaged appreciation of the dynamic environment they inhabit. In Beasts at Bedtime: Revealing the Environmental Wisdom in Children's Literature (University of Chicago Press, 2018), BEI Resident Scholar Advisor, scientist (and father) Liam Heneghan examines the environmental underpinnings of children's stories.
Beasts at Bedtime is an awakening to the vital environmental education children's stories can provide—from the misadventures of The Runaway Bunny to more overt tales like The Lorax. Heneghan serves as our guide, drawing richly upon his own adolescent and parental experiences, as well as his travels in landscapes both experienced and imagined. Organized into thematic sections, the work winds its way through literary forests, colorful characters, and global environments.
This book enthralls as it engages. Heneghan as a guide is as charming as he is insightful, showing how kids (and adults) can start to experience the natural world in incredible ways from the comfort of their own rooms. Beasts at Bedtime will help parents, teachers, and guardians extend those cozy times curled up together with a good book into a lifetime of caring for our planet.
DePaul's University's Institute for Nature and Culture is hosting the launch event for Beasts at Bedtime on Wednesday, May 2nd, at 7:00pm. Copies of the book will be available at the reception.
Copies of the book are also available at: https://www.amazon.com/Beasts-Bedtime-Environmental-Children's-Literature/dp/022643138X or http://www.press.uchicago.edu/ucp/books/book/chicago/B/bo25153600.html