A Tribute to Patricia monaghan 1946 – 2012, cofounder of Black Earth Institute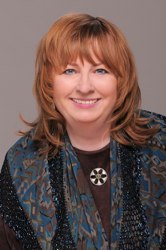 Patricia Monaghan, co-founder of the Black Earth Institute passed on in the arms of her beloved husband on November 11, 2012.  Patricia was a scholar, poet, educator, spiritual pioneer and practitioner, and activist.She passed away at home at Brigit Rest after a 2 year journey of hope and disappointment with cancer.  She did everything she could to continue life and work and lived fully during this period but ultimately left us.
In co-founding BEI along her husband Michael McDermott, Patricia followed the path in the way she had done so many other things.  As a scholar and an artist she opened doors and portals to a different world, different values and different history.  More than this she created programs, networks and organizations. Black Earth Institute was such a vision she saw and then created. She was concerned to have artists serve the role they had in earlier times before art was a function of commoditization and fame.  Black Earth exists to promote that role of the artists as a powerful voice for justice.
She was also a scholar of the history and reality of sacred women figures.  Ireland was a special passion for her for many years as a focus of personal origin and of a location of sacred places and figures shared by Christianity and the pre-Christian Celtic religion.  The saint and goddess Brigit was of special importance, and Patricia often traveled to Ireland to celebrate her sacred days.  She and Michael lived at a land called Brigit Rest in the Drift-less Area of Wisconsin that is the base of the Institute.
Brigit Rest was a place for gardens, orchards, vineyards, retreat facilities and the source of berries for jellies, vegetables for canning and freezing, beans for drying and a place sacred in itself.
Patricia was a brave force of nature and unending energy, terms she was uneasy accepting.  She has moved on but her inspiration and work and spirit will continue to carry us to a better place. Patricia thank you for all you have given us and will still give to all of us.
She so much desired to have the Institute continue and asked that memorial contributions be sent to support this work.  Send your memorial support to Black Earth Institute, PO Box 424, Black Earth, Wisconsin, 53515.