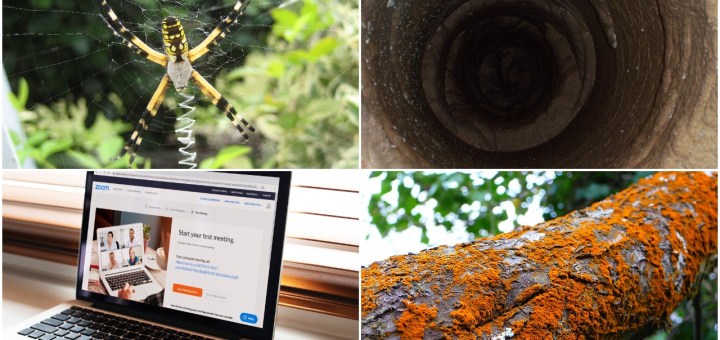 Zoom Somatics in Four Poems
The following collection of poems on Zoom somatics during COVID-19 quarantine is the tenth piece in the 2020 Visions: Imagining (Post-) COVID Worlds series. This series aims to reflect on the uneven impacts of the "pandemic year" and to consider new futures that might be made possible in its wake. Series editors: Weishun Lu, Juniper Lewis, Richelle Wilson, and Addie Hopes.
---
These four poems emerge from shared somatic Zoom practices: being with others through online means, in Zooms and meetups, during the enforced isolation of the first 15 months of COVID-19 in the US.
As a disabled woman who lives with chronic pain, a lot of my work emerges from close-ups, from seeing things very near to me. On days when it isn't easy to go out, these close things become my environment, my scenic boulders, rivers, and mountains. Think dust bunnies beneath the sofa, a feather escaped from a down jacket, or a spiderweb in the corner of a window. Seeing my world with new eyes, in new perspectives, lying on the floor or training my eyes onto a room's neglected corner, tracking my sensations with words: these are all ways in which pain and pleasure can find openings and release.
From within our COVID cocoons, many of us shared our intimate environments. Suddenly, there were all these colors and shapes of other people's home spaces. As someone who uses a wheelchair or scooter to get around, and who can't usually visit with others who have stairs or steps into their private zones, this COVID world offered some enchantment in the form of access. Now I saw how others lived, at least within the boundaries of the postage-stamp-sized squares. These electronic windows into other people's lives afforded me what Mia Mingus calls "access intimacy": a shared moment of being seen in our embodied, spaced being, in the nests we create for ourselves.
Taking my cue from these old and new intimacies, I developed these poems from freewrites that connected my surroundings and my bodily sensations in new alignments. There I was, in the middle of a movement session, bent around my computer portal, while my friend in Florida, on the other side of the screen, invented her own protection asana for COVID times. I thought about spider legs, and the fact that some spiders have book lungs, and I breathed myself in layers. I wrote about earth openings and culvert maws, lead paint and Flint pipes, about transformations in my neighborhood. I touched a tree's lichen crust on a midsummer day. Then I returned to the screen to share something about that lichen touch with people in Aotearoa/New Zealand, Brooklyn, the Bay Area, Pennsylvania, and elsewhere, and received mediated touches of moss kisses from there to my Michigan nest.
I hope you can use these short poems as portal sites, as ways of transporting yourself into the minor, the small, the everyday, in caring and protective ways.
---
Four COVID-19 Somatics
These four short poems on Zoom somatics are also available to download here. Click the link below to hear the first poem, "Invent an Asana: Lichen Shield," read aloud.
---
Featured image: Zoom somatics collage includes the following: Argiope aurantia. Photo from Wikipedia, 2008 (top left); Lead pipe. Photo from Public Works Group (top right); Zoom screen on laptop. Photo by Aom Woraluck (bottom left); Orange lichen. Photo by Tim Green, 2008 (bottom right).
"Spider Somatics" was originally published as "Welcome to Your Viral Home" by Plumwood Mountain.
Petra Kuppers (she/her) is a disability culture activist, a community performance artist, and a professor at the University of Michigan. Her books include the ecosomatic poetry collection Gut Botany (Wayne State University Press, 2020), the queer/crip speculative story collection Ice Bar (Spuyten Duyvil Press, 2018), and multiple academic books. She lives in Ypsilanti, Michigan, where she co-creates Turtle Disco, a somatic writing space. Twitter. Website. Contact.
First Posted on Edge Effects