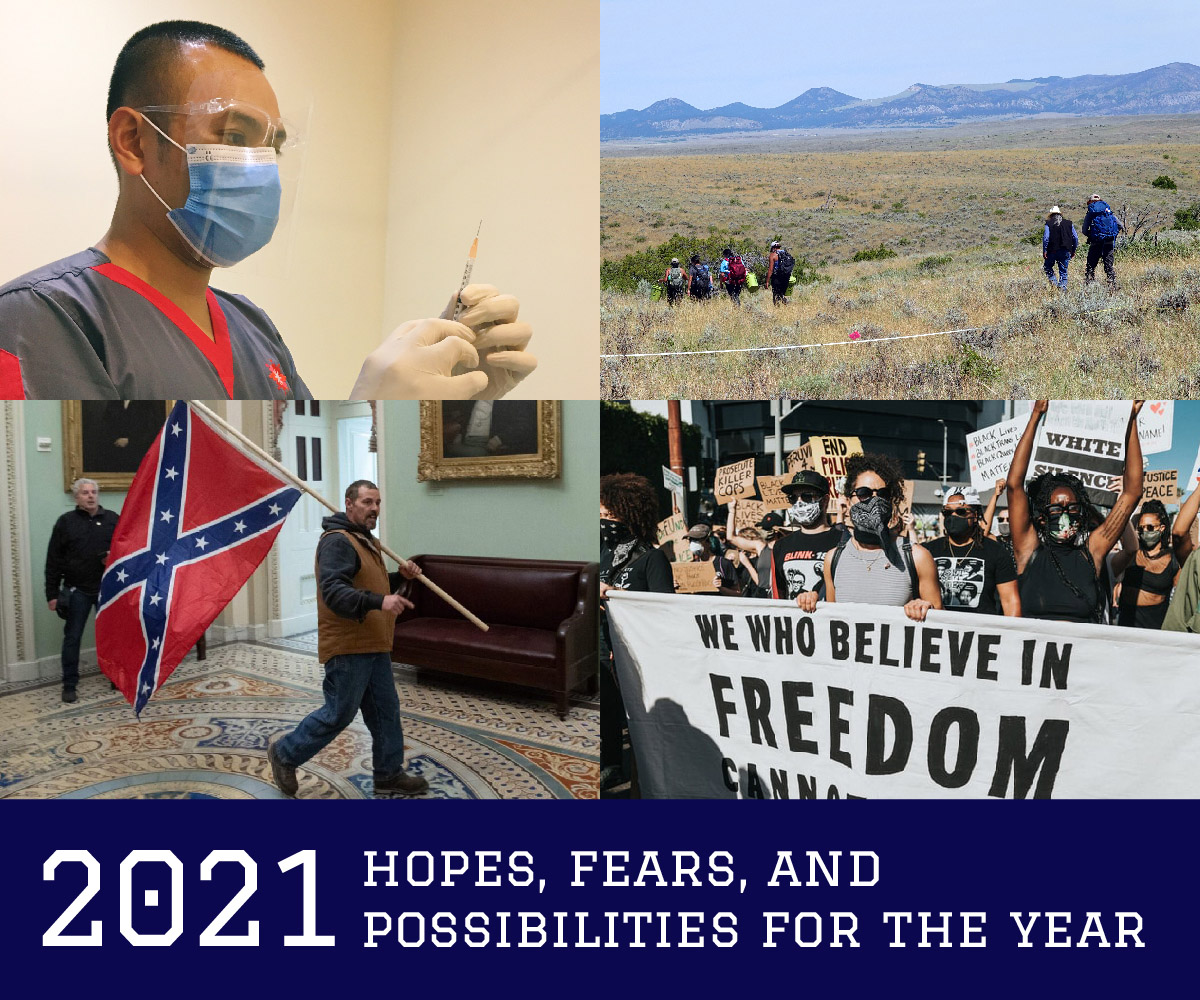 Photo credits, clockwise from upper left: Kristine Wook, Cristina Eisenberg, Nathen Domlo, wusa9.com
By Richard Cambridge
The Black Panthers imagined a world not yet in existence,
but one that they thought they could will into being.1
—Peniel E. Joseph
A beam of light from Proxima Centauri, our sun's nearest neighbor among the stars, takes about four years to reach the earth.
On February 12, 2021, the film "Judas and the Black Messiah" was released, portraying the events surrounding the assassination of Black Panther Fred Hampton on December 4, 1969 by the Tac Squad of the Cook County State's Attorney, Chicago Police and the FBI. It took over fifty years for this light to reach the general public..
Akua Njeri, Hampton's widow, and her son, Fred Hampton Jr. are listed in the credits as "Creative Experts." They hope the film will "spark some kind of flame"2 to inspire people to create change and teach about the community programs created by the Black Panther Party. Fred Hampton's original vision of a Rainbow Coalition united Black and Latino gangs and the disenfranchised poor of the White Patriots,  a template for community activism that exists today.
From the Black Panthers to Black Lives Matter
The Black Live Matter movement was founded by three Black women, Alicia Garza, Patrisse Cullors, and Opal Tometi, two of whom identify as queer, in the aftermath of George Zimmerman's acquittal for murdering Trayvon Martin.
In 2016 Alicia Garza described this moment for the movement as a real paradigm shift:
It is an indicator of what is to come. But it also, I think, points to the agency that we have, collectively, to change our conditions. I think if we demonstrate a collective commitment and a collective practice to changing not just how police and policing happens in this country, but certainly to changing the conditions that black communities are living and existing in, then we have a real shot for living in a world that is more just, more equitable — in a world where black lives actually do matter.3
Garza acknowledges the Black Liberation movement, and Black Panther in exile Assata Shakur4 as sources of inspiration. Emory Douglas, the Minister of Culture of the Black Panthers who created the artwork for the Black Panther Party newspaper remixed one of his iconic art posters to celebrate the rise of Black Lives Matter movement. One notable difference in the Black Lives Matter poster is the size of the scales. The FBI and law enforcement murdered over two dozen Black Panthers from 1966 to 1972. Since then the number of black citizens murdered by law enforcement has risen hundreds fold. How many more black lives are weighed in the balance.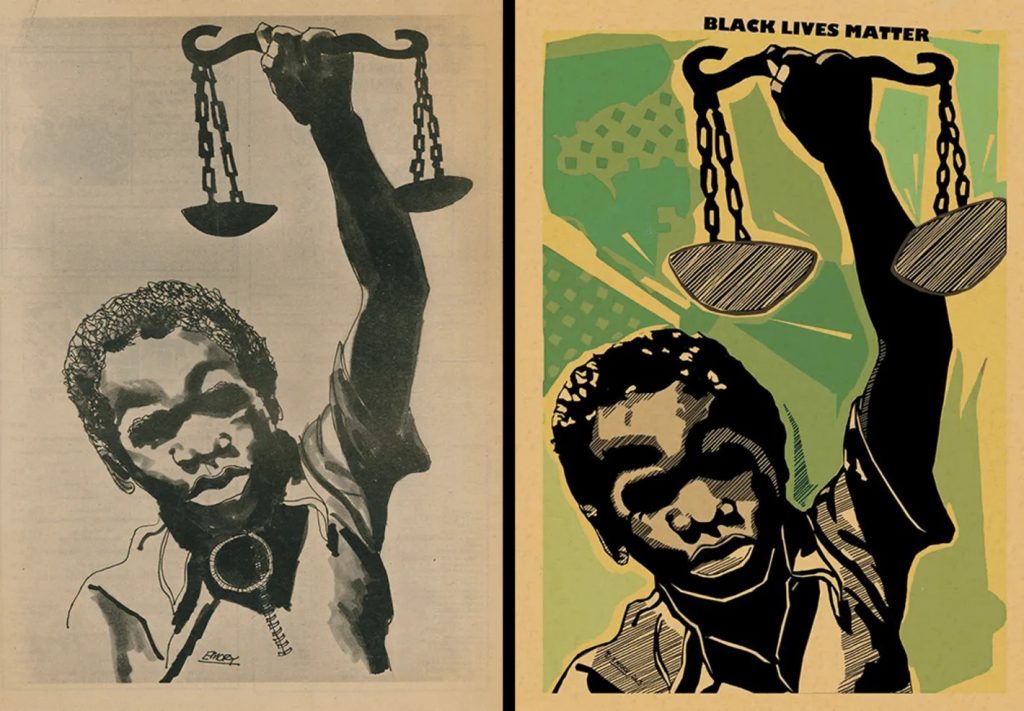 Since the murder of George Floyd last summer Black Lives Matter has seeded chapters around the world, and have mobilized millions in protest marches. Many cities have begun to reallocate funds from police departments to social programs and have local citizens on police review boards.
It is my hope that in 2021 what was sparked by the Black Panthers fifty years ago, and rekindled in the Black Lives Matter today will continue to create political and cultural change.
Notes
Peniel E. Joseph, Stokely: A Life BasicCivitas Books (New York, 2014), 194.
https://www.yahoo.com/now/why-fred-hamptons-fiancee-akua-njeri-fought-for-accuracy-in-judas-and-the-black-messiah-165344724.html
https://www.npr.org/sections/codeswitch/2016/07/13/485895828/black-lives-matter-founders-describe-paradigm-shift-in-the-movement