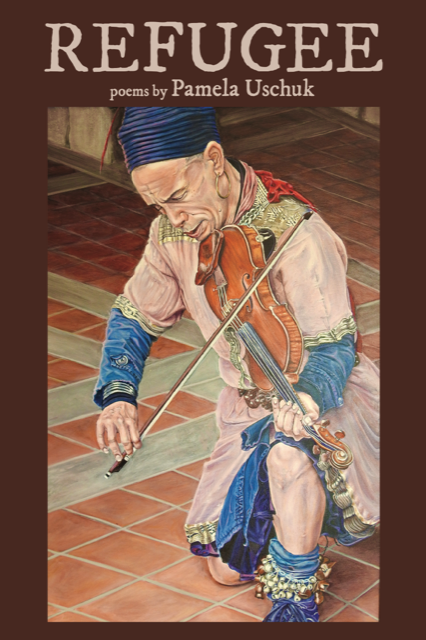 In May of 2022, Fellow Pam Uschuk will be debuting REFUGEE, a collection of poems through Red Hen Press.  Luckily for you, she gave us a small taste of what we can expect to see in the upcoming collection!  Please enjoy her piece "Weather Change."
WEATHER CHANGE
for Terri Harvey
Wind slithers through oleander leaves like schools of salmon ghosts, the iced relics of steelhead fins or silver lining rainbow trout cheeks
I fished for long ago as a girl. Sky chills even hidden scars.
The voices of desert birds are far away water trickling over a granite ledge.
Call out the colors of clean air, sweet, filling
 the cancered lungs of my brother in the last veteran's hospice bed.
Call clean air for the lungs of women in Damascus or Kabul who secretly perm the hair of other women in their homes
while husbands cloister, click beads, tongues lashing from tight mouths, ignoring the slight breeze of words lilted by wives smothered
by centuries of swaddling cloth, by the slavery and comfort of veils. Call sweet air. Fresh air for the mother bent into worry's hook,
air for the premature baby whose moth-wing lungs struggle for flight in a neo-natal unit across town,
air for the homeless man wandering paved drives 
in our foothills community still asleep, his shoulders
drenched by a daypack so grimy its history is the cruelty of char. Air for the pit bull snoring in a treeless yard, chained
to a stake broiling in desert sun while his teen owner, a new father, bags meth in his mother's bathroom.
Air for a child's hands closing on the first baseball of her life, for the proton in the eye of the observer that changes
what a woman sees as love halfway across the globe. Air for all of us, breathing memory's luminous mind,
the way quietly it says goodbye
 from a river we will wade long after we say goodbye.