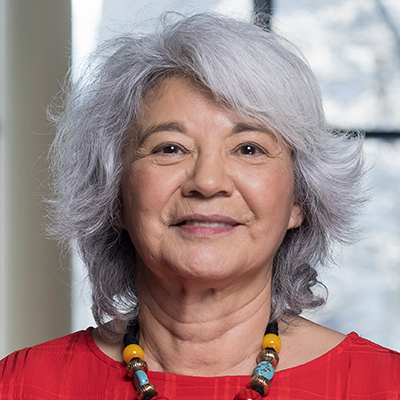 Louise Halfe—Sky Dancer—is a Cree poet and writer, Elder and teacher. Born in Two Hills, Alta., she attended a residential school as a child and has drawn on this experience to explore resiliency, reconciliation and the legacy of colonialism, in her poetry.
One nominator interviewed her after the publication of her first book, Bear Bones and Feathers, and said, "We were blown away by her guts, her strength, her unflinching gaze and her courageous words." In her subsequent poetic work, she has continued to examine and illuminate uncomfortable themes and to celebrate the resilience of her family and her people. Her volumes of poetry have received numerous literary awards, and she served for two years as Saskatchewan's Poet Laureate, a position which allowed her to mentor young poets and writers.
In 2001, she became the first Indigenous poet to have her work included in a standard Canadian poetry anthology, and now, according to one of her nominators, it would be "unthinkable" for her work not to be included in any general anthology of Indigenous writing in Canada. Halfe has participated as an instructor in university courses, and as a speaker and reader at numerous conferences, workshops and literary festivals in Canada and abroad. She is an Elder and advisor on Indigenous traditions at the Gordon Oakes Red Bear Student Centre at USask.