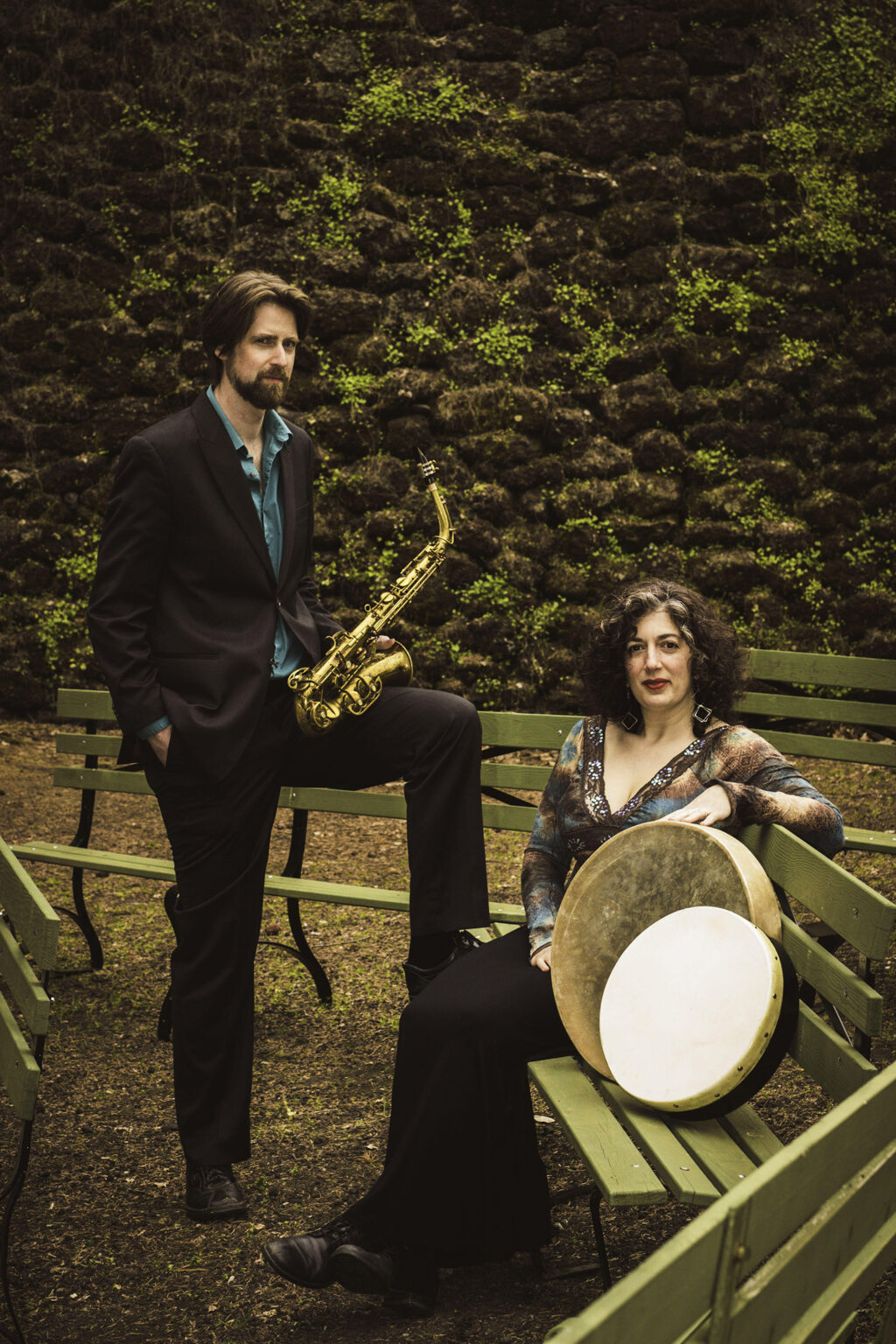 Earthworkers | Thick In The Throat Honey
Portland, Oregon-based duo Thick In The Throat Honey (Claudia F. Saleeby and John C. Savage) began in 2007 at The Atlantic Center for the Arts. Morphing the traditions of jazz, spoken word, experimental music, chants, and devotional intoning, the duo has performed at music and improvisational festivals throughout the country and is known for their unique melding of the disparate.
A little backstory: How did you begin working with/in response to natural environments, or what are your primal experiences with the natural world?
From my perspective (this is Claudia), one of my first significant experiences with the natural world came when I laid under a tree in the Adirondacks with my childhood friend Heidi. In my poem, "Beauty" I wrote:
I was 8
and the mountains
were autumn…those trees,
yielding to winter
their ephemeral beauty,
a key,
to a greater door,
to still the pool within us.
How every mountain
since
calls to me
unbidden
with its song.
I think the significance of that experience was mostly because I was a child of Queens, NY in the 1980s and joining the Girl Scouts was my first real exposure to anything wild. Everyone thought I would hate it, but I loved all of it—even the poison oak and mosquito bites and dirt. That feeling of awe felt intimate and personal. Many members of my family loved art (my mom was a painter) and music and great books—but wilderness at that age felt like it was mine alone.
The word primal in your question makes me think about my book, Bruising Continents. While I was writing Bruising Continents I sought the wild spaces of Wyoming, Montana and Colorado. It was summer and I wrote about my love affair with John while I watched faraway hillsides erupt in flame. I regularly hiked to exhaustion, giving my body to whatever river would have me. Not the smartest, but wild spaces can provide whatever you desire—for me, I wanted to be wild, too. Test the limits of my physical and emotional sphere. Nothing like a lightning storm in the Big Horns to accomplish that.
John comes from the Pacific Northwest with really deep roots in this region. There are pictures of tiny John on a "leash" in the Columbia River Gorge on terrifyingly steep hikes (teddy bear in his pack) with his folks. Others show him in these adorable red snowshoes at around 5. His father was a mountaineer, and the natural world is woven into the fabric of who John is. Even as a jazz musician, he eventually lost his mind in New York because he needed wild places.
We probably fell in love partly because of this dichotomy.
John was raised to be a mountain-man/athlete; I was raised to be an intellectual. We both sought out the other thing in our lives (him the 6'7" flutist; me, the New Yorker who can make a fire in the rain). Today, both of us feel the pull of incredibly urban places for the art showcased there, but, eventually, we just want to be out in some deeply green, muddy place with ferns at our elbows. We hope our collaborations reflect that tension.
A love: Share one of your favorite creative pieces and the natural environment it responds to.
The last piece in my book, Bruising Continents, "Folklore," is one of the best things I've written about an environment. It came from my frustration with the Pacific Northwest and my deep love for John. The rain, the dark, being back in a city, the mold, my asthma, the energy, the noise, the lack of snow, it was all so hard for me after years on a hill in rural Colorado. I started writing a love note to the landscape—something I often do when I'm feeling disconnected. It turned into an epic poem. John wrote music for the poem, and we soon started performing it as a collaborative piece with improvisatory elements.
We've performed this piece throughout the Pacific Northwest, in California, and Colorado. People adore it, I think, because it demonstrates the way we must commit to a place—to marry it—to fully be integrated with an ecosystem. My time in Colorado was definitely more of a boyfriend thing—the sun, the snow, always feeling so good and never having to commit. sigh. Oregon has definitely been a marriage. Damn, it is amazing sometimes (our fig tree, the flowers, the rainbows and great produce)! it is also completely infuriating (the sideways rain, the dark at 3pm, nothing ever drying—ever!) and I want to pack my bags often. Less often the longer I live here.
A lesson: What advice do you have for someone who wants to co-create with the natural world?
Let the landscape tell you what to make, even if it wasn't what you first had in mind. Really go into everything with a sense of discovery and openness. John wrote me a piece of flute music at the beginning of our relationship after we spent a weekend at the Oregon coast. Certain phrases mimicked the sound of the waves and others were stridently urban. It was later premiered in NYC for The National Flute Association Convention. Every time I hear it, I am transported to that coastline.
There is that moment when natural spaces get in your body, but, often, integrating that experience takes time. Since I've had my daughter, I find the urge to create something that feels good in the moment: a pinecone path down a tree, like Andy Goldsworthy, bull kelp and plastic glitter tape braids, like Cecilia Vicuña, or a watercolor that focuses on the color of the river we just swam in. The poems rarely come through until later.
For years I cooked for people going through chemotherapy and their caregivers. I worked with various farms to provide my clients with the freshest, most beautiful food possible. Now that I cook regularly with John and our daughter, River, I see this practice of nourishment as integral to my artistic one. It is not just the finished product, but the entire flow of growing food, making a meal. What a wonder to see the seeds burst forth from the earth, to touch the smooth skin of a new pea and inhale the pea leaves as you crush them in your mouth. Lately we've been harvesting our young dandelion leaves and making them into a pesto with garlic scapes and lemon. We taste our earth. The tang and tannin of spring.
I think allowing yourself to slow down in your artistic practice (and life!) as much as possible is the best thing. Deciding you are going to create a piece just because the sunset is so spectacular is a set-up for failure. Laying on the mossy floor and letting the sunset's light come through your closed eyes while focusing on your breath might be better.
---
Listen to "Folklore" on Soundcloud, which begins at 13:57
Listen to one of Thick In The Throat Honey's albums, Love Letters We Never Sent
Their latest piece about the pandemic, filmed in their garage for The Portland Jazz Composers' Ensemble: "Tell Me What You Love, Tell Me What You Miss, Tell Me the Truth"
Visit Thick In The Throat Honey's website for more music and poetry! Tune into the duo's individual sites! Claudia's website; John's website
Image info: 1: Claudia performing her poetry; 2: John on flute; 3: Thick In The Throat Honey in Oregon; 4: Performing Feminine Era; 5: Claudia and John with their daughter.
First posted by: