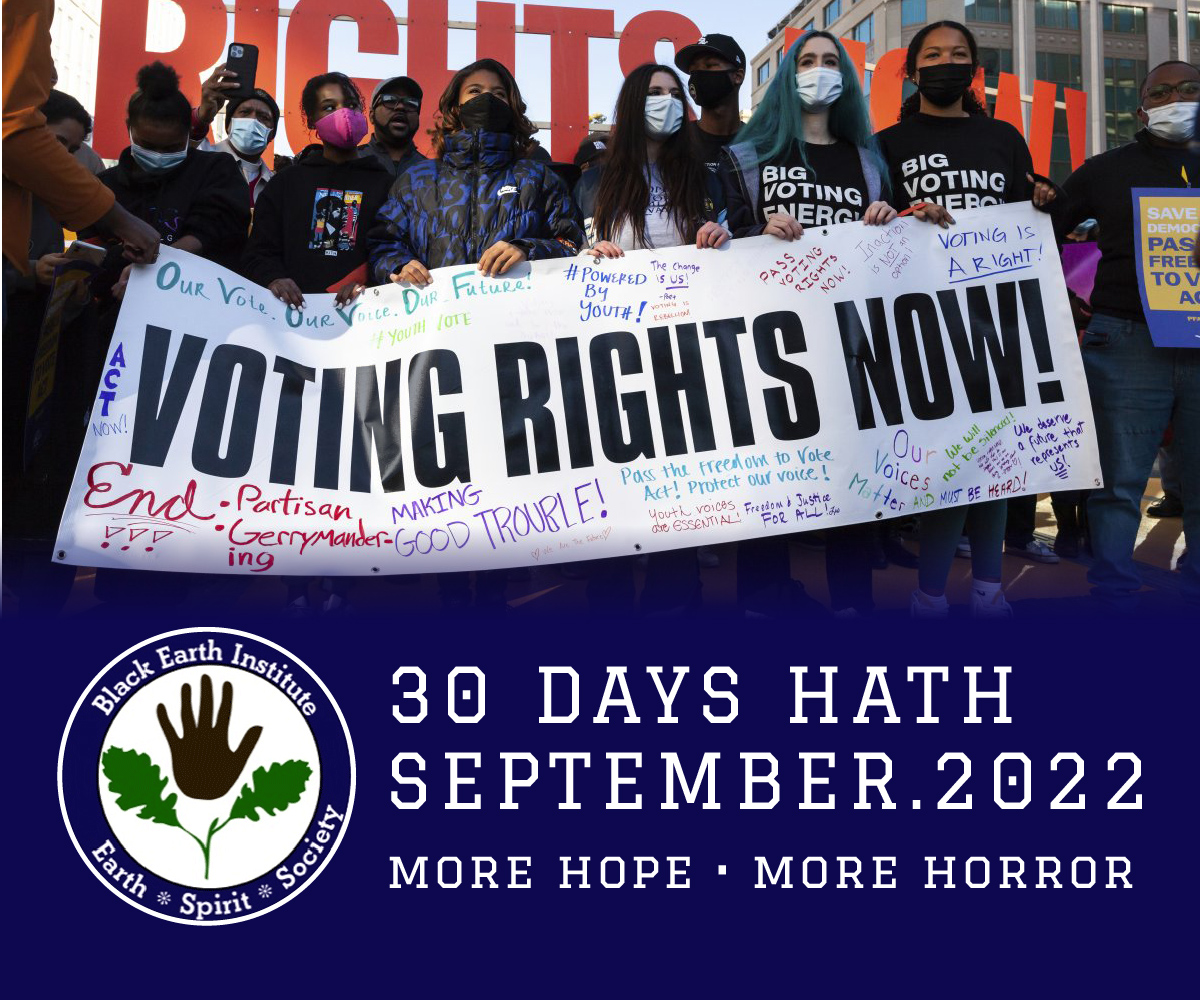 Photo credit: National Education Association

BY MARIA HAMILTON ABEGUNDE
Part 1
June 24, 2022 – No. 19-1392 Dobbs v. Jackson Women's health Organization
Supreme Court votes 6-3 not in our favor 
I breathe. Breath expands my capacity to think about a past I have kept quiet (not silent) about for over 40 years. Politics = personal = power = choice / choice = life / no life. All things are connected.
Part 2
June 30, 2022
I am praying for Dr. Caitlin Bernard. 
I am praying for the 10-year-old girl who crossed state borders to be free. 
I am praying for every 10-year-old girl who cannot cross a border to save her life.
I am praying for me. Once upon a time.
Part 3
July 29, 2022 – SB1
The state of Indiana becomes first in country to legalize new restrictions on abortion (SB1). 
Furthermore, SB2 includes "…dedicated spending, flexible spending and tax cuts for programs that promote healthy pregnancies and babies, and helps makes adoption more affordable for Hoosiers."
Where is the language for prevention, or support for those who are sexually active by choice and who do not want to get pregnant now or ever?
I do find this: "Victims of rape and incest who become pregnant may seek an abortion up to 10 weeks post-fertilization." 
Even though by the time I was 10 I knew how to do so, I am quite certain that most 10-year-olds do not know how to track their periods on a calendar down to the first day of blood. 
(Be honest: You don't want to know why a 10-year-old would need to have this skill. You will not allow yourself to imagine the reasons why. So, I won't tell you. But, did you know? Sometimes you don't know anything for the first 8 weeks.)
Part 4
August 5, 2022
On the third day that I am installing a new exhibition about the healing power of women's wombs and co-creative community art making, I hear the news about SB1. 
Our exhibition is not about No. 19-1392. Do not ask me to connect them. We have been deliberate to not make a statement about this decision that was made without us. Instead, the exhibition is about the choices we each made to heal ourselves and/or our whole generations, seven back and forward, so we can get free and stay free in all our lifetimes. Our lives, the lives of our ancestors, and the lives of our descendants depend on our ability to choose.
My womb is called I CHOSE to stay awake. She honors the 15-year-old me who chose to stay alive, who crossed state borders to be free. That me chose to stay awake so we would remember what freedom cost us and our ancestor.
Part 5
Did you know? African women aboard slave ships aborted their unborn children. Sowande' Mustakeem writes that this "…gynecological resistance…" was a way that African women seized reproductive control (101-104). They used their extensive knowledge of body, mind, spirit, and herbs to stop time. 
It did not matter that those herbs could cause irreparable internal harm. What mattered was that their children would not be born in the belly of a slave ship or fed to the sharks if they were found to be of no sale value. What mattered was that their girl children would not be born to suffer the same fate as they had before they left the dungeons, or would endure on the plantations, in front of the whip, under the bodies of white men who hated them, and in front of the men who loved but could not save them. A mother always knows. She feels it in her heart and bones; in her blood.
(See Mustakeem, Sowande' M. (2016). Slavery at Sea: Terror, Sex, and Sickness in the Middle Passage. Urbana: University of Illinois Press).
Part 6
I was one of these women once, on a slave ship, on a Brazilian fazenda (plantation), resisting because refusal was not an option. Even then, my thoughts were the same:
"Where is my voice? I listen for its fullness. 
To hear its anger at what is being done to me" (88). 
(See Abegunde, Maria Hamilton. The Ariran's Last Life excerpts in the Kenyon Review Winter 2008 and in Trouble the Waters: Tales from the Deep Blue, 2022, Nashville: Third Man Books).
Part 7
Call the Midwife, S2:E6, February 24, 2013
Nurse midwife Jenny Lee is appalled that Sister Julienne aids Nora, a woman who is not faring well after an abortion. It is the late 1950s, the East End of London. "Do you think I have not seen this before?" Sister Julienne asks her. Jenny Lee cannot comprehend how a nun nurse midwife could ever condone such a thing. 
I am reminded of why I returned to watch this show after a ten-year hiatus: its complexities, the unexpected responses of the nuns who seem to have more experience than the nurse midwives and the attention to the horrid living conditions of the poor, white, uneducated communities, and eventually the Black people who join them – the "Windrush Generation" from the Caribbean. One of my mother's older sisters was that generation, arrived by boat. (Yes, all things are connected by water).
In this episode the women of the East End are being lauded for having children, and their children are being judged for their beauty; nurse midwife Trixie is nearly raped; Sister Bernadette suppresses her emotional desires for the doctor; and Nora, a mother of 8, with the support of her husband, makes every attempt to end her pregnancy. 
Nora survives the post-abortion septic shock with the help of doctors and nurses who could be imprisoned for doing so. As a result, she and her husband are able to have better lives together. She can no longer have children. But, as the narrator (Nurse Jenny Lee in her older years) points out, her daughters eventually benefit from doctors who can legally and safely assist them. 
P-Valley, S2:E7, July 24, 2022
"To live this American life in this body, at the intersection of race, class and gender, can feel like a gift and burden all at once" (Katori Hall, writer and executive producer of P-Valley).
More than 60 years separate the settings of these programs. And, race. In Mississippi, Black girls and women have to cross time warps and dimensions to be free in their own state. Yet, I can't help thinking how the lives of the poor are similar, even when shaped differently by history and skin color. 
Katori Hall could not have known that the week E7 aired would also be the week that Indiana would severely restrict abortion access. But, maybe she did. It is Jackson that brings us to this place. In Mississippi, reproductive rights for women have always been restrictive. Black girls and women are more at risk for not receiving basic health care on a daily basis. And, now, there is nothing. (In the ensuing weeks after this decision, there will be no clean water in Jackson.)
I cry through Call the Midwife. But, I keen through P-Valley. My husband does not ask me, "Are you crying already?" as he often does when we watch tv. He holds and rocks me until I am silent. 
I am Terricka,14-years-old and terrified. And, I am grateful that my mother Mercedes is willing to drive all over Mississippi and walk through protest lines; grateful that, in the end, she lets me drive and choose the road I want to travel towards freedom. 
No words. No language. Nothing, not even sound can fully express what is emerging from beneath the quiet I have kept for these 40+ years. Yet, I have found a way to write again about this life that I refuse to forget. 
(See Abegunde, Maria Hamilton (2023) in So We Can Know: Writers of Color on Pregnancy, Loss, Abortion, and Birth. Chicago: Haymarket Books).
Part 8
September 15, 2022 – Indiana SB1 Goes Into Effect
I breathe. 
Breath reminds me: "All that I am, all that I have ever been, and all that I ever will be, has brought me to this moment in time" (Billie Topa Tate). 
This moment. Why must I tell this story again? Why must our stories still be relevant and timely decades after we told them or vowed to never speak of them? After centuries of sacrifice, how is this possible?
Part 9
I am a full-spectrum doula. I tend to women and the ancestors from pre-natal to post-partum to death. 
Each time, I am in awe at the first sight of a child's head entering this world, at the inseparable pain and joy in their mother's screams of newborn possibilities. 
I remember that Black women on slave ships, and in cane, cotton, rice, and tobacco fields, used their screams to disrupt futures that promised no such possibilities.
I am reminded that choice = power = life = free.