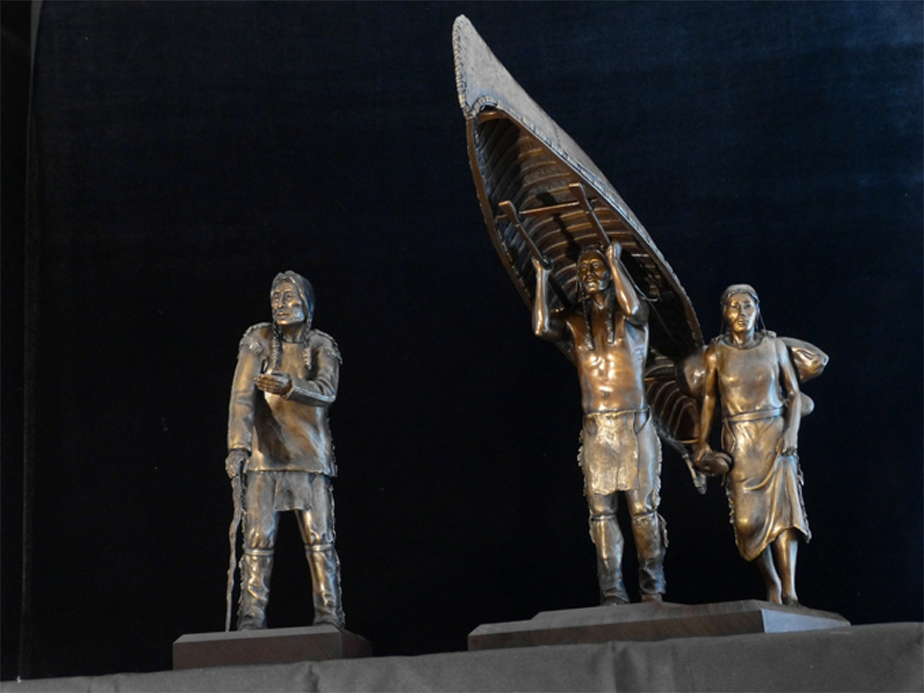 A massive sculpture will soon appear on the Lake Michigan shoreline between Manitowoc and Two Rivers. Spirit of the Rivers, a tribute to the Woodland Indians of the Upper Great Lakes, consists of three 10-foot-high human figures and a 20-foot birch bark canoe in bronze.
Created by sculptor R.T. "Skip" Wallen, the sculpture will be dedicated at 2 p.m. Sept. 16 at 4815 Memorial Drive, Two Rivers. The public is invited.
The monumental bronze group portrays a young Native American man portaging a canoe with his female companion beside him and an Elder welcoming them ashore. The sculpture celebrates the origins and long history of human settlement along these shores.
The University of Wisconsin-Manitowoc offered an interdisciplinary course based on Spirit of the Rivers for three years. A book of that title by award-winning author, historian and BEI Scholar Kerry Trask is in press and will be available for purchase at the dedication and at the museum.
More details: SpiritoftheRivers.org