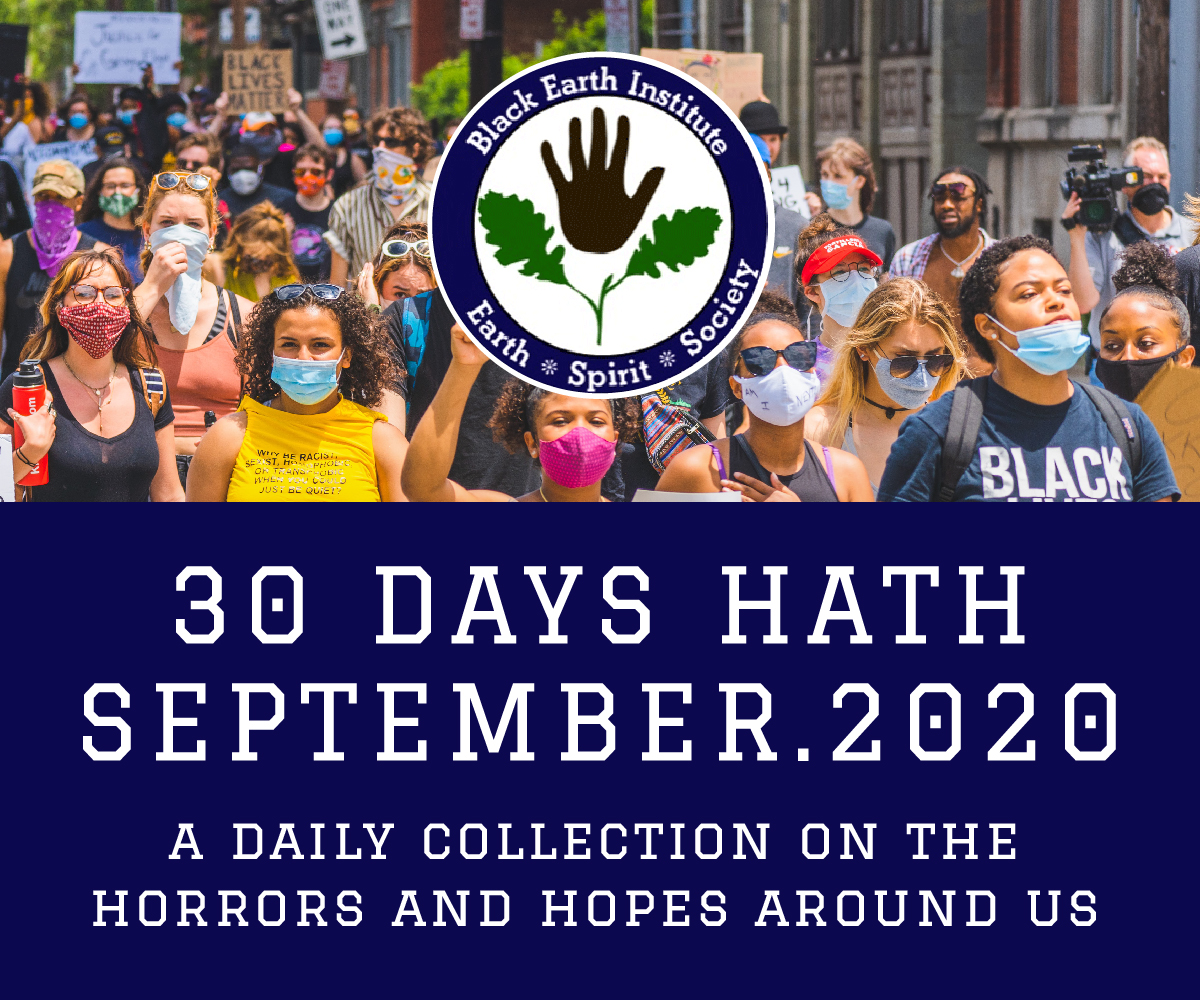 By Roberta Hill

The quality of the sunlight in its intensity and brilliance has softened to spun gold.  Nights get chilly. We're moving toward a time of darkness and cold. Leaves are covering the grasses and forest in bright dots. In my mailbox, perhaps in yours these past three weeks, I received large postcards, printed in color with images of Biden, Harris, and Sanders.  One has an image of a woman with a wrinkled forehead looking fearful or perplexed. These postcards annoy me.  I'll share my feelings about them, then share what inspires me:  memories of the earth, poems in the new Norton Anthology of Native American Poetry and the music of Toots Hibbert and the Maytals.  I am saddened by Toots Hibbert's passing.  His music helps me deal with my own health problems and face the dangers of this time.
In 2016, the Oceti Sakowin Camp in Cannon Ball, N. D. showed the spiritual energy of the water warriors who moved people worldwide to challenge the pipeline going through their reservation.  This year, Black Lives Matter organized the largest protests in American history with tens of millions protesting the death of George Floyd and other victims of police brutality.  We're also living through the Earth's transformation:  massive forest fires in the West and Brazil's Pantanal, hurricanes and melting glaciers, heavy rain and droughts.  It's up to us to challenge the threats to our fragile, flawed democracy, to take care of the Earth, our only home, and to nurture our hearts and love one another in the midst of this pandemic. We're living through a human species transformation too.
The Republican Party of Wisconsin in Madison mailed me three cards, and not one has a photo of President Trump or any Republican candidate.  They are negative attacks, meant to make readers afraid for their future security.  They claim Democrats have "a clear agenda":  defunding the police, destroying jobs, giving illegal immigrants jobs and free healthcare, threatening our way of life.  That is bad!  The image of the woman who looks like she has cramps says the D's have moved "too far to the left".  The cards "report" on the Democratic Convention by crossing out "Under God" "Law and Order" "Support our Police".  They could be honest and say the Republican Convention didn't have an agenda or a platform. Without ideas for governing the country or what they'll do if Trump wins and they get into power, their only option is to attack the Democrat's platform.  Their Convention's no nothing platform was to follow Trump no matter what.  I define following a leader without question as authoritarianism.  Do they want one-party rule?  That's not democracy!  Are we moving toward a totalitarian government?  It seems they want to keep a grip, holding onto a bucking horse of ideas.  So they drag out the old "Law and Order" catch-all:  Nixon's ploy using Segregationist George Wallace's strategy to appeal to white working class racism by implication.  Nixon wanted to put 1960s protestors (dope-smoking fiends) in jail and prison.  His 1974 drug law is still a law (repeal please) and succeeded.  Hannah Arendt in The Origins of Totalitarianism claims that future dictators gain power early in the process by using thugs to strike fear into citizens and violently dispel potential for change.  The elite secretly employ the violent unemployed.  Guess I need to send these cards back where they came from!
What inspires me as I isolate myself at home and deal with my heart?  In Great Tide Rising, Kathleen Dean Moore wrote about the writer's four gifts: memory, imagination, wonder, and amplification.  I remember the great elm trees that lined Chestnut Street. When I was four, I ran down the sidewalk and met elms so full of beauty and presence, their limbs soaring in great brown curves with sunlight playing through their leaves.  I was awestruck, feeling their bravery and strength, one after the other in a vast expanse that has disappeared.  I find wonder in the way the two female hummingbirds stay at my feeders, sitting under tree leaves in three days of rain, jumping up when one or another comes around.  They are ruby-throats who chase each other to keep their flight weight. They chitter and soon will make their journey across the Gulf of Mexico in one long flight! I cheer for them.
The recently published Norton Anthology, When the Light of the World Was Subdued, Our Songs Came Through, edited by Joy Harjo, offers many poems that make a reader feel this land and shift their feelings toward a new awareness of the earth and cosmos as living energies.  The songs keep us going.  For example, Henry Real Bird's poem, "Thought," has the metaphor of thought being a cloud and cloud's shadow on the Wolf Teeth Mountains.  Then the reader is transported to the mountain range where in the closeness of creation, the moral behavior of being a good person is made clear.  Gail Tremblay's poem "Indian Singing in 20th Century America," ends with lines that relate to this century as well: "Change moves relentless,/ the pattern unfolding despite their planning—/we're always there—singing round dance/ songs, remembering what supports/ our life—impossible to ignore."(43).  This poem and others give me the feeling of being with my ancestors, even in isolation.  The power of song also moves the music of Toots and the Maytals.  Toots Hibbert died last Friday, 9/11/2020, possibly from Covid-19.   With his music, he took bad experiences and with his soul energy changed the outcomes; all the problems of being in prison, being poor and unemployed, being sick became songs like "54-46 was my number," "Pressure Drop," and "Spiritual Healing".  His calling for love is my survival strategy; his songs challenge injustice and the racism so prevalent now.
Covid-19 has caused a lot of grief in the world and our response to this grief might be to instill more understanding and love and to challenge and change those policies and practices that prevent a sustainable earth.  We need to stay close in spirit through these changes.