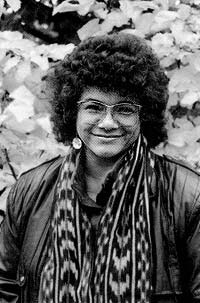 Roberta Hill's, poet and BEI Emeritus Fellow, poem "Philadelphia Flowers" is going to be discussed by a panel as well as drawing on their experiences. The panelists will discuss it at the "Cultural Sustainability and the Pursuit of Community" Event.
In the cubbyhole entrance to Cornell and Son,

a woman in a turquoise sweater

curls up to sleep. Her right arm seeks

a cold spot in the stone to release its worry

and her legs stretch

against the middle hinge.

I want to ask her in for coffee,

to tell her go sleep in the extra bed upstairs,

but I'm a guest,

unaccustomed to this place

where homeless people drift along the square

bordering Benjamin Franklin Parkway.

From her portrait on the mantel,

Lucretia Mott asks when

will Americans see

how all forms of oppression blight

the possibilities of a people.

The passion for preserving Independence Square
"EAST ST. LOUIS – Illinois Humanities will present "Cultural Sustainability and the Pursuit of Community," the second event in its statewide program series, The Country and the City: Common Ground in the Prairie State?, in East St. Louis on Thursday, October 25.
The panel discussion with audience participation will take place in the SIUE East St. Louis Center Building D multipurpose room, 601 James R. Thompson Boulevard in East St. Louis, on Thursday, October 25. Doors will open and free refreshments will be available at 5:30 PM. The program will begin at 6 and conclude by 8. Admission will be free of charge.
The event is part of a year-long, statewide initiative featuring text-based discussions of issues that affect both rural and urban Illinois communities, involving panelists who are well-versed in those issues from both perspectives.
Three panelists representing urban communities and three representing rural communities will participate. Those representing urban communities include
Cindy Reed, poet and cultural commentator from East St. Louis, doctoral student in American Studies at Saint Louis University, and fellowship recipient of the Mellon Foundation's Divided City Initiative
Leone Jose Bicchieri, executive director of Working Family Solidarity, labor organizer, and economic justice advocate from Chicago
Vincent Thomas, a Rock Island Township trustee, journalist, and retired director of the Project NOW Community Action Agency, serving Rock Island, Henry, and Mercer counties.
Panelists representing rural communities include
Jim Nowlan, a former state representative, syndicated columnist, political consultant, author of books on Illinois state government, and president of Stark County Communications in Toulon
Jane Ann Petty, co-owner of Free Press Coffee House and the William Watson Hotel in Pittsfield, both housed in historic buildings that she and her husband, Jonas Petty, renovated
Claudia Zabala, a teacher of sixth grade and English as a second language, Beardstown Middle School, Beardstown.
The panelists will address questions such as these:
How can urban and rural communities sustain their defining cultural features while also being culturally inclusive?
How can they maintain their cultural distinctiveness and vitality and their sense of place in the face of economic, technological, and social changes?
Is it possible to achieve a mutually beneficial relationship between cultural conservation and economic development, or are those two pursuits intrinsically opposed?"
For a link to the rest of the article.