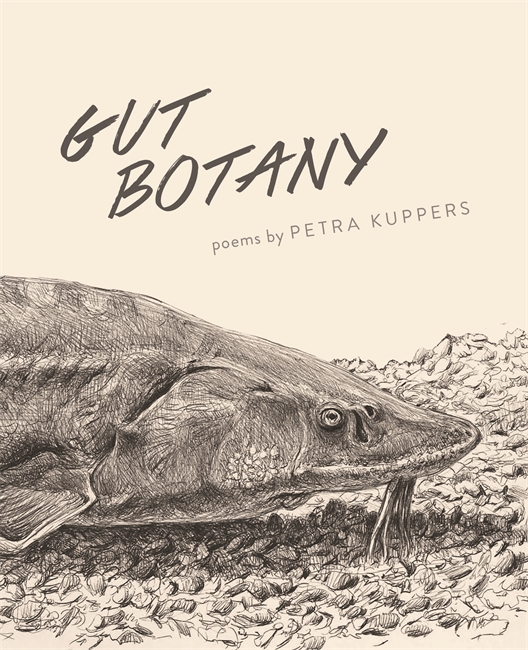 Entropy Magazine recently placed Gut Botany on their list of the Best Poetry Books of 2020-2021. You can purchase the collection here. In the meantime, read this fantastic review published in The Massachusetts Review.
Gut Botany by Petra Kupper (Wayne State University Press, 2020)
You might remember, when the pandemic began, animals' intrusion on the suddenly vacant human landscapes. Goats roamed the streets of Llandudno, Wales. Monkeys searched for food in Lopburi, Thailand. A javelina sped through downtown Phoenix. It appeared that the natural world, which we had crowded out, returned rapidly in our absence.
But to many of us, these animals appeared to us only through screens. Nature had come back and those of us who quarantined had retreated into a form of existence that appeared to be even further removed from it. Quarantine, that is, has given rise to an exaggerated boundary between the human and the natural. With everyone indoors, nature seems to thrive. Increasingly, we understand how separate we have become from it.
Written before the pandemic but published in the midst of it, Petra Kuppers' Gut Botany is also concerned with this indistinct but formative boundary between the natural and the human. In the case of Gut Botany, however, this boundary provides a locus for play, performance, and healing. By placing the human among the living artifacts of the natural world, Kuppers' poems cast off the binary between human and nature, creating a space where the human, embodied, can thrive as a natural being.
In some poems, Kuppers juxtaposes a human vocabulary with objects typically considered to be parts of the natural world. "Nanook," written while listening to Inuk throat singer Tanya Tagaq and watching the film Nanook of the North, begins:
hollow reed reaches back in time
through the esophagus, through my mouth, vibrates in my throat,
open desert ice air rain, sun blind warm
hollow reed of sea flesh
dark red, pulse, a heartbeat cooled by the arctic water, salt tears
well over my face,
the walrus eyes, the blood rolls down like thunder into the
stroke, stroke, stroke
Both time and space collapse as the body coalesces with nature, evoking an undifferentiated embodiment. In a related gesture, the poems in "Moon Botany," which describe items Kuppers' collaborator brought to her after finding them on wheelchair-inaccessible hikes, meld the speaker with the natural objects she considers. Inky cap mushrooms and the speaker become one in "Found on the Other Side of the Pond": "We deliquesce, bloom out of line, without arthritic shifts, / slipstream on the pond's edge, time alchemies lift / us into multitudes." In "Found on the Walk up to the Hill Bench," a horsetail fern becomes an aging "I," pulling the speaker and the fern together through a bond that seems already to inhere in them.
Elsewhere, the speaker's immersion in the natural takes place through the medium of performance. The section "Asylum" subtitles its poems after performances Kuppers has given. Many poems track the performances themselves, how Kuppers moved through and interacted with space. In "Rose Cardamom Sea Salt," subtitled "(upon performing at Earth Matters on Stage, Reno, Nevada)," Kuppers writes:
Touch and silk and the rough edges of my fingers catch light
rose lavender bergamot
long hair twists across the plane of the eyebrow and lands, draped,
across a single eyelash
frankincense
creamy and warmed in the palm it spreads
ocean camel's back sways in the occupied valley
rose cardamom sea salt
sun field crust crystal white rings around blue and green
Here, "natural" imagery is used to give a wide-ranging interpretation of what it means to attentively inhabit and perform with a body. This body is not simply one's own; it is a conduit for the natural objects with which it interacts, both transforming them in the act of performance and being transformed by "rose lavender bergamot."
It is the book's opening sections, however, that not only describe but enact a performance of merging with the natural world. "Gut Body" calls into being a natural space both inside and outside the body by addressing the reader directly:
Bow forward, pour yourself into your capable hands, and hold your heart.
Bow forward, pour your stomach into your feeble hands, release the binds that bind so tightly to your spinal column.
Bow again, drop your sexual organs into waiting hands, wait. Breathe in, out, in, soothe.
The body's presence may now unfold: just after the above lines, "[f]ish slip into the labyrinth of intestines" and "black veins spider along for companionship, dark purple, maroon." The body has been freed of its boundaries, both those that divide it from nature and those that idealize a perfect abled form. It is essential to note that the body emerging from Gut Botany, which is described on the jacket copy as a "queer eco-somatic investigation," also grows out of an engagement with disability, allowing the poems to depict both human and non-human lives as irreducibly contingent, unidealized, and dynamic in their possibilities.
"Contours," the section that follows "Gut Body," is the epitome of this complex commingling of human, nature, and performance. In it, the speaker describes a series of movements undertaken in collaboration with the environment. Their improvisatory texture recalls Kuppers' field notes: "My writing grounds itself in surrealist and situationist techniques of dérive and freewriting: losing myself in land, letting my attention drift as I wheel myself through space, notice how the land heaves, the lines of my wheelchair's glide, how strata of occupation shape urban and rural scenes." The poems in "Contours" feel simultaneously material and delicate, as if tracing a careful line that words can barely hold. In this gentle motion, they unravel the linguistic separation of the natural world from the humans who live in it, both representing and recreating a new space for embodiment.
This new space matters, in large part, because Gut Botany is a book of healing. As Kuppers writes in her Field Notes, the book follows an experience of sexual assault by a body-worker. "Court Theater," the book's third section, recounts the courtroom scene that followed the assault, interspersed with questions as harrowing as, How did the site influence your performance? As if to both answer and move beyond such questions, Kuppers enacts Gut Body's integration of human and nature.
It is Kuppers' combination of generosity and resoluteness that grounds Gut Botany. These poems are both fierce and freeing, both energetic and calm. During quarantine, when it is easy to feel as distant from the outside world as from oneself, I take heart in the contact that Kuppers cultivates between self and body, between body and world.
Kuppers carefully inhabits that electric moment where the two meet, whether she is holding a stick of rhubarb or dreaming of a dragonfly's "bristle foot pad hair." Given that we are all, even in quarantine, in an endless interaction with the world outside of us, these are the kinds of moments to learn to live in.
DENNIS JAMES SWEENEY is a poet and teacher with an MFA from Oregon State University and a PhD from the University of Denver. He is the author of Ghost/Home: A Beginner's Guide to Being Haunted (Richochet, 2020) and In the Antarctic Circle (Autumn House Press, 2021) He teaches at the Pioneer Valley Writers Workshop and GrubStreet.