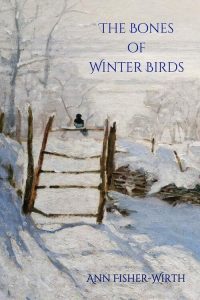 Read this review of Ann Fisher-Wirth's "The Bones of Winter Birds" by Stephen Black. Originally published by The Hopper
The Bones of Winter Birds
by Ann Fisher-Wirth
Terrapin Books, 2019
Reviewed by STEPHEN BLACK
The Tibetan practice of Tonglen requires the practitioner to breathe in the pain of others and breathe out relief to them. It requires skill. Ann Fisher-Wirth's The Bones of Winter Birds is a breathing in of loss and pain. And there's a lot of pain that's taken in: floods, war, domestic violence, murder, cancer, rising oceans, mass incarceration, the destruction of forests and river, and above all the loss of her parents and her sister, a sister she can love "without ever / really knowing her, the time / for knowing my sister passed long ago."
The first poem of the book, "October: A Gigan," charts this movement through affliction toward the promise of release. In it, Fisher-Wirth writes, "The day is sweeter now / but sorrow gathers at every corner, across the world, / so much that the heart shuts down." At a party the month before, the "Seer for the Evening" offered her a deck and she drew "Balance  Gratitude  Breakthrough." The poem ends: "Breathe, and remember the fine-tipped leaves, / the quiet October air. Then it will come, the new." Her clear and plain language leaves no hiding place for the sadness that lies within most of these poems. As she writes at the end of "Solstice": "The path through these hills / is muddy with suffering."
But The Bones of Winter Birds is also a book about what lies beyond pain. (In "Rain," a dying friend says, "I think we are provided for.") What is breathed out in these Tonglen-like poems is consolation, especially memory, nature, art, place, and family.
The progression from sorrow to acceptance is slow, oscillating between the outer and inner worlds. The poems of the first section catalog the troubles of the world, from the Fukushima tsunami ("Mayumi") to the devastation of war ("Vicksburg National Military Park," "Prayer," "Yoga Nidra") to the wastefulness of mass incarceration ("Team Teaching at Parchman, Mississippi State Penitentiary").
In the second section, Fisher-Wirth grieves the loss of her parents. She explores how her father, who fought in the Pacific in World War II, struggled with his trauma after the war. Her depictions of the love and wounds of their marriage, and their devotion to their children, are tender and clear-eyed. After her mother's death, Fisher-Wirth dreams her mother walked into her house as she is cooking. She puts her mother to bed: "As I pulled the quilt up, her warm, imperceptible hand / began to stroke my cheek. It's all right, it's all right."
Section three chronicles the long illness and eventual death of her sister Joan. In "Why Not Left in Peace," she imagines her sister struggling with Parkinson's in a cluttered double-wide in Bend, Oregon, and feels the weight of all she does not know about her sister's life. "But the code for our family was silence," she writes. Beneath the reticence that creates a great emotional distance between the two, there is love: "Yet when I was eighteen, her tenderness — / she opened the bathroom door where I was hiding. / Mother told me, she said. / She didn't say the word pregnant, / just picked up the book I'd dropped." Writing about her sister becomes a way for Fisher-Wirth to nurture the bond between them from a distance. In "January 28" she writes, "But I am talking to you now, my sweet / sister, I don't want to stop talking to you, / my thoughts keep time with your breathing."
Fisher-Wirth steps away from her personal grief in the fourth section to write a sequence of poems based on artists and writers of the past. The subjects of the poems range from Emma Bovary to Giacometti to Georgia O'Keefe to the daughters of Minyas from Ovid's Metamorphosis. By immersing herself in the works of other artists, Fisher-Wirth finds comfort and offers respite to the reader.
The poems in the book's fifth and final section examine Fisher-Wirth's relationships with people other than her parents and sisters. The tone is chilling at times: there is a close call on a Greyhound bus with a possible serial killer in "Chant D'Amour, 1965." At other times, the voice of sadness returns as she writes about her first child, who was stillborn ("Love Minus Zero" and "These Things"). There is also the joy she felt at the birth of her son ("Sumac"), and the steady love of her marriage.
The full acceptance of pain creates spaciousness in the practitioner of Tonglen. The poems in The Bones of Winter Birds offer a similar experience, inviting readers to open themselves to sorrow, both personal and global, in order to transform and be transformed. We are provided for, these poems assure us. In a world saturated with grief, through the patient work of opening ourselves to suffering, we make ourselves known to ourselves and to others. In her poem about teaching writing at Parchman Prison, Fisher-Wirth writes, "As a guy in Big Mike's story says, You feel me?" That question lies beneath every poem in this striking collection.
Stephen Black
Stephen Black is a poet and writer of narratives, fictional and otherwise. He grew up in rural Gibson County, Tennessee, and now lives in Memphis, where he teaches yoga and writing. He has participated in the Wildbranch Writing Workshop and is working on a bioregional history of West Tennessee.