Posted on July 6, 2021
Posted By: Christina LaPalm
Categories: News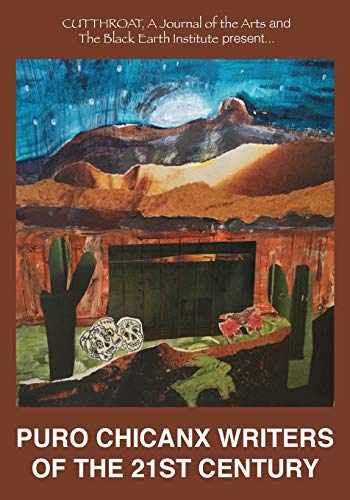 A great review of Puro Chicanx Writers of the 21st Century, published by Cutthroat, a Journal of the Arts and co-sponsored by the Black Earth Institute. This is a defining collection.
La Bloga is the world's longest-established Chicana Chicano, Latina Latino literary blog.
Friday, July 02, 2021
Puro Chicanx Writers of the 21st Century
Today's guest blogger, Juliana Aragón Fatula, reviews Puro Chicanx Writers of the 21st Century. Take it away, Juliana.
____________________________
The collection of Puro Chicanx Writers of the 21st Century, presented by Cutthroat Journal of the Arts and the Black Earth Institute, communicates the focus on Chicanx culture and heritage and hundreds of years of marginalization by the dominant culture. In this historic anthology, we meet poets, scholars, and la gente anxious to tell their stories. This irreverent, rebellious, inventive, rasquache, distinguished compilation contains poetry and prose by the talent of candid 21st Chicanx writers in the U.S. These writers offer an assemblage that will be used in Chicanx Studies, Ethnic Literature, Chicanx Literature, Creative Writing and Poetry classrooms, and writing workshops. Students in high schools and universities will benefit when this book is added to their literature curriculum to advance in education and lead the world in racial equality and cultural diversity, this book belongs in our schools and libraries. This anthology deserves every award and praise it receives. Lessons learned in these works lend the reader an eye to Chicanx culture often marginalized and undervalued.
Many of these writers are Chicanx icons in the literary canon. They communicate their own distinctive attitude about impoverishment, social and health issues, and the necessity to educate our children to think one world, one people. They are warrior poets who weave the motherland's tapestry.The editors and staff of this self-funded publication exemplify the very best of what this Chicanx culture has to offer. From the gorgeous southwest painting on the front cover, The Wall by Anita Endrezze, and the back cover art, Milagros Border Wall Installation by Alfred Quiroz, to the editors' selection of the finest writing by seasoned writers, they honed the artists' poems and prose into pages of inspired testimony of the epoch of global epidemic, racial inequity, and social matters for the underrepresented.
In Ana Castillo's poem, Two Men And Me we are told there are no mistakes in hell. It's poignant, humorous, dark. But her poem Xicanisma Prophecies Post 2012 Putin's Puppet, tells another story. It's hard-hitting political power. Want to read a poem that explains the political nightmare we are a part of, read this poem and memorize it and recite it at parties.
liz gonzàlez (all lowercase): The Mexican Jesus Sings Lead Tenor in the Our Lady of Guadalupe Teen Choir describes a teenage crush on the boy at church and earns the best title in this anthology. Her writing blooms and releases the fragrance of Oceanside, Cali air with the salty breeze in your hair. It's a nostalgic trip down memories of the seventies in the barrio. The poem ends with, "Jesus almost saved me."
That Smell, an essay by Luis Alberto Urrea, drops in your lap with a question. "Do you imagine The Trail of Tears had a scent?" Luis documents important facts as a witness and testifies about the conditions of human beings at the border. He writes a painful description. He mentions Ursula K. Le Guinn and Those Who Walk Away From Omela as a must-read. He asks, "Can you smell that smell? It is the scent of the world burning. Those children we have spit on are human kindling."
This essay on the travesty occurring el otro lado reveals how the U.S. changed policy and created a concentration camp setting for refugees. "What I can't shake is that smell. It came back to me again as soon as I saw the pictures of the refugee detention centers. I saw it when Mike Pence and Lindsay Graham entered a center and visibly froze in horror, clearly tried to hold their breath."
Urrea reveals anger at those responsible but balances it with empathy and love for the refugees who suffer. "What would you do if unknown strangers paid $750 a day to hold your child in a secret warehouse where she is comforted by concrete and steel as if she were a baby monkey in a bioresearch lab? You would not Tweet. You would tear it down." He reminds us that history tells future generations what cruelty and hatred the U.S. heaped upon these immigrants. "They will forever be remembered as "Mr. Pence, Mr. Graham, Stephen Miller, Mister President—breathe deep, boys. Your legacy will never wash off. You will forever reek."

Maria Melendez Kelson writes Optimize Us, the story of a man and a woman and their artificial intelligence technology that controls their every move in the algorithms sent by the data they send to the CLOUD. Her masterpiece of sci-fi magnificence blasts the reader with humor that titillates, tantalizes, and terrifies the reader; the witty writing drags us down into the duckweed and mercury in Fountain Creek with the artificial intelligence known as Selma.
Maria uses her knowledge, expertise, research, "After I'd been inactivation for ninety days, Len changed my name to Selma and changed my voice to Latina…I spoke English with an accent of a Mexican movie star. With my voice being no longer Anglo neutral, I started re-coding and examining data relevant to my condition of being different. Gender-specific."
It's a love story, a preservation story, a feminist story, a fairytale nightmare you don't see coming. This story has a comic bent that doesn't materialize immediately but gains momentum as the story unfolds. Technology has evolved to controlling our actions based on what the A.I. expels from our choices and the data that creates. The A.I. had the ability to tap into our minds and control us to improve our lives and control our actions to reach maximum benefits and purpose. Maria Melendez Kelson, a genius; her imagination, her skill, her creativity. Brilliant sci-fi in her story Optimize Us.
Myriam Gurba never disappoints with her magic. Her piece, Cacica, where it's cool to wear a woman mustache while everyone tells you to shave it, you grow it, tweak it, twirl it, tease it, twist tight, tighter, tight. She's strong, gifted, and honest. What's not to love? Honesty, not facts. The truth is what we want, and she delivers true stories. This chingona, aye mujer, she kicks ass and takes names. Don't mess with Myriam, she's MEAN

Lorna Dee Cervantes' poem, What Is Chicanx? reminds the reader that she is the revolutionary chick from the beat poets. Her poems are meant to be heard. You have to read them aloud to hear her message, and it's a strong one. She says get off your ass and change the world. Now, pendejo, now.
This book will be hailed as one of the most important anthologies of Chicanx Literature of the 21st Century and it belongs in your library. It's a healing text that educates, entertains, moves emotions, and opens eyes. The following are my reviewer's choices for favorites written by familiar and unfamiliar writers.
Xánath Caraza: Serpent of Spring translated by Sandra Kingery
Ana Castillo: Putin's Puppet
Lorna Dee Cervantes: The River Doesn't Want the Wall
Linda Rodriquez: Fear and Guilt Against Arizona SB 1070
Gary Soto: A Simple Plan
Natalia Treviño: Afterlife
Viktoria Valenzuela: dia de los muertos
Denise Chavez: Lety Street of Too Many Stories
Reyna Grande: To My Goddaughter
Myriam Gurba: Cacica
Alberto Rios: We Are of a Tribe
Adela Najarro: Iguana Dreams

Check out their work in this anthology and then buy and read their books and support the arts. The world has changed. We are one world. We are one people. Order this book and buy copies for your friends and loved ones. The text has 358 pages and eighty-four writers: Sandra Cisneros, Alberto Rios, Luis Alberto Urrea, Octavio Solis, Denise Chavez, Demetria Martinez, Carmen Tafolla, Edward Vidaurre, Raul Sanchez, Rosemary Catacalos, Griz Munoz, Matt Mendez, Matt Sedillo, Gary Soto and more, and includes art in ink, charcoal, and watercolor by Octavio Quintanilla.
Send submissions, subscriptions payments, and inquiries to:
Cutthroat, A Journal of the Arts
5401 N. Cresta Loma Drive
Tucson, Arizona 85704
Ph. 970-903-7914
Email: 
cutthroatmag@gmail.com
www.cutthroatmag.com
Cutthroat, A Journal of the Arts is self-funded, so all Donations gratefully accepted.
______________________________


Juliana Aragón Fatula, a Southern Colorado Chicana, Macondista, educator, performance artist, poet, and a 2022 Corn Mother, women who have earned accolades for community activism and creative endeavors, mentors for Bridging Borders, a Teen Leadership Program and was a former Director of mujeres unidas de CSU Pueblo Creative Writing. She is the author of three books and winner of the High Plains Book Award for Poetry 2016, and her poems appear in several anthologies. She believes in the power of education to change lives.
Later.
Posted by Manuel Ramos 
at 12:01 AM 

First posted by La Bloga