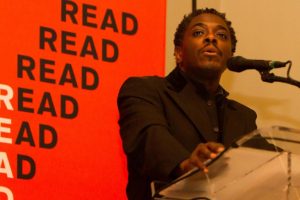 Regie Gibson, BEI Emeritus Fellow, recently performed at Cary Library's: Library After Dark where he inspired the audience. This is a series is one of Cary Library's many to cultural programs. For the original article.
---
For 150 years, Cary Library has been enriching the lives of Lexington residents. The library is a place that sparks curiosity and imagination, builds connections within our community and celebrates the cultural richness and diversity of the town.
The joy of learning and discovery can be seen in every corner of the library, from toddlers attending story time in the children's room, to students collaborating on school projects in the teen space, to patrons checking out a stack of the latest novels, to children and adults staging special events in the multi-functional spaces. It is a beloved town resource that means so much for so many of the town's residents.
The Cary Memorial Library Foundation supports the mission of the library to "ignite curiosity, engage minds and connect our community" by raising money above the tax-supported funds to support an array of cultural programs and events, capital projects, educational tools and resources, art displays and technological innovations, which benefit patrons of all ages. These include Road to Reading, a literacy program that encourages parents to read 1,000 books to their kids before they start kindergarten, to the extensive World Language Collections, to special speaker series, such as last month's talk by Nobel-winning economist Peter Diamond, to the Library After Dark program, which turns the library into a hip performance space. The most recent Library After Dark event featured the Afro-Mediterranean sounds of Atlas Soul, led by Regie Gibson, Cary Library's first poet-in-residence, who wowed the audience with his poetic, playful and thoughtful lyrics.
Cary Memorial Library has long been the hub of lifelong learning and discovery for Lexington residents, whether one is 9 or 90. For resident Emily Sayre, "the library is the heart of this community," where her sons Henry, 9, and William, 6, can go and take out books on their own, make friends and participate in library's many children's programs. "They absolutely loved the book club. … And on library day, they would bring armfuls of books home, spread them out on the floor and then there would be quiet." With its numerous programs and welcoming environment, it is no wonder the children's room is the busiest part of the library.
For Ruth Mondano, 93, the library is "a blessing, it really is a blessing." Ruth, who has a lifelong love for libraries, would be at a library "morning, noon and night" when she was younger. Now she looks forward to receiving audio books through Cary Library's Door to Door program. "If you have a book to listen to, it's fabulous," she says.
Your donations to the Cary Memorial Library Foundation helps the library serve the educational needs of Lexington residents, promote civic life and engagement and provide a welcoming space for our community to come together, a place where we can learn the story of others as well as share the story of ourselves. In this way, each one of us is a stakeholder in Cary Library.
To our donors, we wish to express thanks. To those who would like to express their appreciation and support for Cary Library, please join your Lexington neighbors and friends in donating today. As we celebrate the 150th year of the library, together we can ensure a vibrant future for our most cherished institution for generations to come.
S. Martin Hwang serves on the board of directors of the Cary Memorial Library Foundation, www.carylibrary.org/foundation.