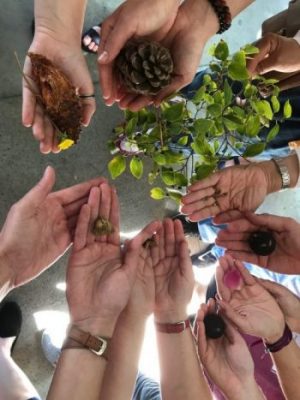 As part of ASLE (Assocation for the Study of Literature and Environment) annual conference in Davis, California, June 2019, BEI Fellow Petra Kuppers co-led with poet Stephanie Heit a post-conference workshop, Tendings and Eco-poetic Disability Culture: Bodymindspirits of the Future.
The workshop offered an artful space for engagement and resource-sharing, and brought contemporary art-based approaches to bear on sitedness, on being in space with others, on being interdependent and in caring relations with the world. The UC Davis campus is the old University of California Farm, and is bisected by a beautiful arboretum walk along its main water feature, the Putah Creek.
Wheelchair user Petra Kuppers and mental health system survivor Stephanie Heit led twelve international participants in disability culture exercises from the Tendings curriculum. Tendings are everyday collaborative ecopoetic practices that combine experiential anatomy, disability culture, eco-specific investigations, somatic exercises, and writing. We went on disability culture exploration of Davis's campus, drifted outdoors, explored the air, water, earth, non-human beings, scents, textures and pathways that surrounded and supported us.
As part of the workshop, we led the group on sensory walks, paying attention to traces of fire ecologies of the Davis campus: thick barks, water management, etc. Then we wrote together, letting our writing flow from the sense impressions of the present. In a second exercise, we used a meditation, a dream journey, to travel to a second site, an imaginary garden far in the future. Once again, we wrote in that place: this site, 300 years from now.
Lastly, we went to visit with the Putah Creek, honored its connection with indigenous ancestors. We stood in silence on the banks and witnessed the river, then played with human and non-human partners, before we came together at the watery edge to close our exploration with words of gratitude to the water and land.
The experience of being sensorily connected can be beautiful as well as overwhelming. One participant, Elif Sendur, wrote, after being led along a path with their eyes closed: ""Touching a dandelion, the softness, the smooth tentacles created shadows on my closed eyelids. Can my hands see? Can my hands create shadows on my eyes? At one point, I wanted to cry to discover something I never thought was possible, a whole side of a dormant experience suddenly awakened…this panicked me. I stopped myself from crying where all things merged: my disequilibrium, my fear of falling, pine-cones, dandelion, shadows. And then everything smelled like pine."
Elif also wrote about being part of an experiential workshop as part of an academic conference:
"For me the best part of the workshop was to deeply comprehend the interdependency that we are all bound by. I now not only understood this truth epistemologically but also bodily …. I found the overall workshop enchanting – in a very good way that inspire me in ways that I did not imagine. Especially in an academic conference where we are conditioned to refuse this very interdependency on each other due to the primacy of intellectual distances, I think this workshop showed me how I can be more trusting to and trustworthy of others."
With the river, with the land, with each other, with our different journeys, we tended each other in kindness and creative exploration.