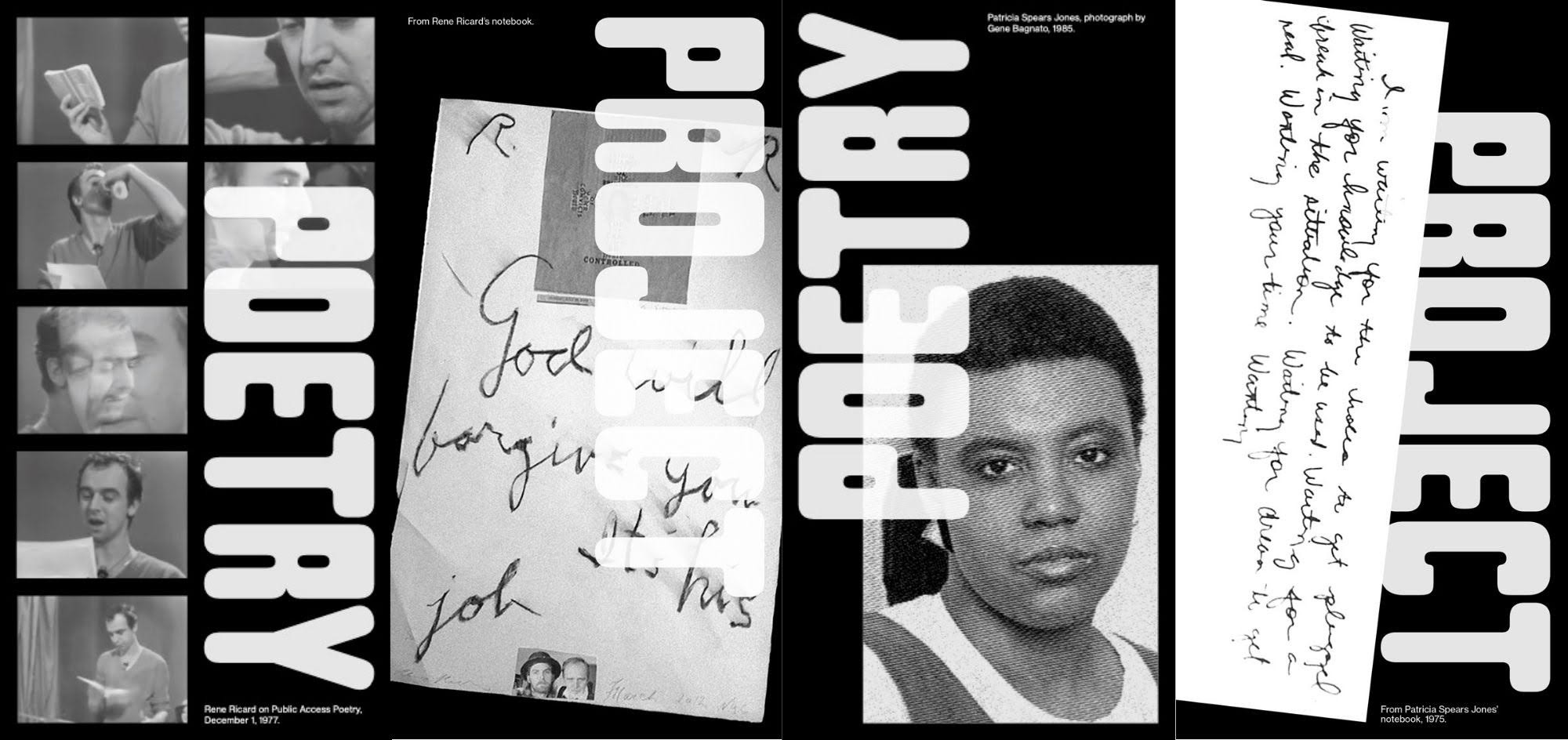 The Poetry Project is honored to bring together poets, collaborators, and stewards of the avant-garde for our 55th Anniversary Gala in the Sanctuary at St. Mark's Church-in-the-Bowery, honoring two iconoclastic, beloved, and inspiring poets: Rene Ricard and Patricia Spears Jones.As we celebrate the incredible influence of these writers on downtown culture, the Gala marks the launch of The Poetry Project's vast audio, video, and print archive – an unprecedented record of radical poetics, performance, and scholarship from over the last half century. Jones and Ricard are two pivotal figures in this immense assemblage of more than 5,000 groundbreaking poets, artists, activists, and thinkers, whose conversations, readings, and ephemera have been held and now digitized at the Library of Congress.

The Poetry Project is thrilled to share that these archives are now available to the public, and are calling on our community and supporters as we recover the friction of live performance, trace networks of friendship and collaboration, and recontextualize people in the archive who have been positioned outside of our collective cultural memory. Join us in the work to present broader and more critically considered perspectives of our community, which has vitalized and shaped counterculture over the last 55 years.

Friday, April 8, 2022
7:00pm, reception
8:00pm, dinner and program
9:30pm, after-party
Sanctuary of St. Mark's Church-in-the-Bowery

Festive Attire
Purchase individual tickets for the gala hereIndividual tickets for the gala are $500. To learn more about our Epic, Visionary, Innovator, and Community-Builder sponsorships please contact gala@poetryproject.org.

Purchase tickets for the after-party here

Individual tickets for the after-party are $40 if purchased in advance and $50 at the door.
Co-Chairs: Vincent Katz & Arden WohlGala Committee: Eloisa Amezcua, Omar Berrada, Hope Atherton & Gavin Brown, Victoria Bartlett, Claire Bernard, Charles Bernstein, Anselm Berrigan, Stefan Bondell, Lori Bookstein, Stefania Bortolami, Cecily Brown, Valerie Carberry, Andrea Cashman, Rachel Chandler, Catharine Clark, Alba & Francesco Clemente, Scott Covert, Jessica Craig-Martin, Monique Erickson & Ethan Sklar, Mónica de la Torre, Kyle DeWoody, Fairfax Dorn, Nathaniel Dorsky & Jerome Hiler, Austin Fremont, Casey Fremont, Raymond Foye, Jordan Galland, Tamara Gonzales & Chris Martin, Bob Holman, Tyehimba Jess, Stephanie LaCava, Hanna Liden & Meaghan Gragg, Nate Lowman, Helen Marden, Melia Marden, Mirabelle Marden, Chrissie Miller, Darsi Monaco & Jacob Mueser, Gina Nanni, Alice Notley, Zac Posen, Mary Reilly & Tamas Glanz, Carolyn Ramo, David Reed, Heather & Raphael Rubinstein, Aram Saroyan, Lola Schnabel, Stella Schnabel, Chloe Sevigny & Sinisa Mackovic, Amy Trachtenberg, Nicola Vassell, Anne Waldman, Madeline Weinrib, and Jordan Wolfson

With performances and tributes from: Charlotte Carter, Guillermo Filice Castro, Cornelius Eady, Jason Kao Hwang, Tyehimba Jess, Alice Notley, Lorraine O'Grady, Maureen Owen, Lucy Sante, imogen xtian smith, and Anne Waldman