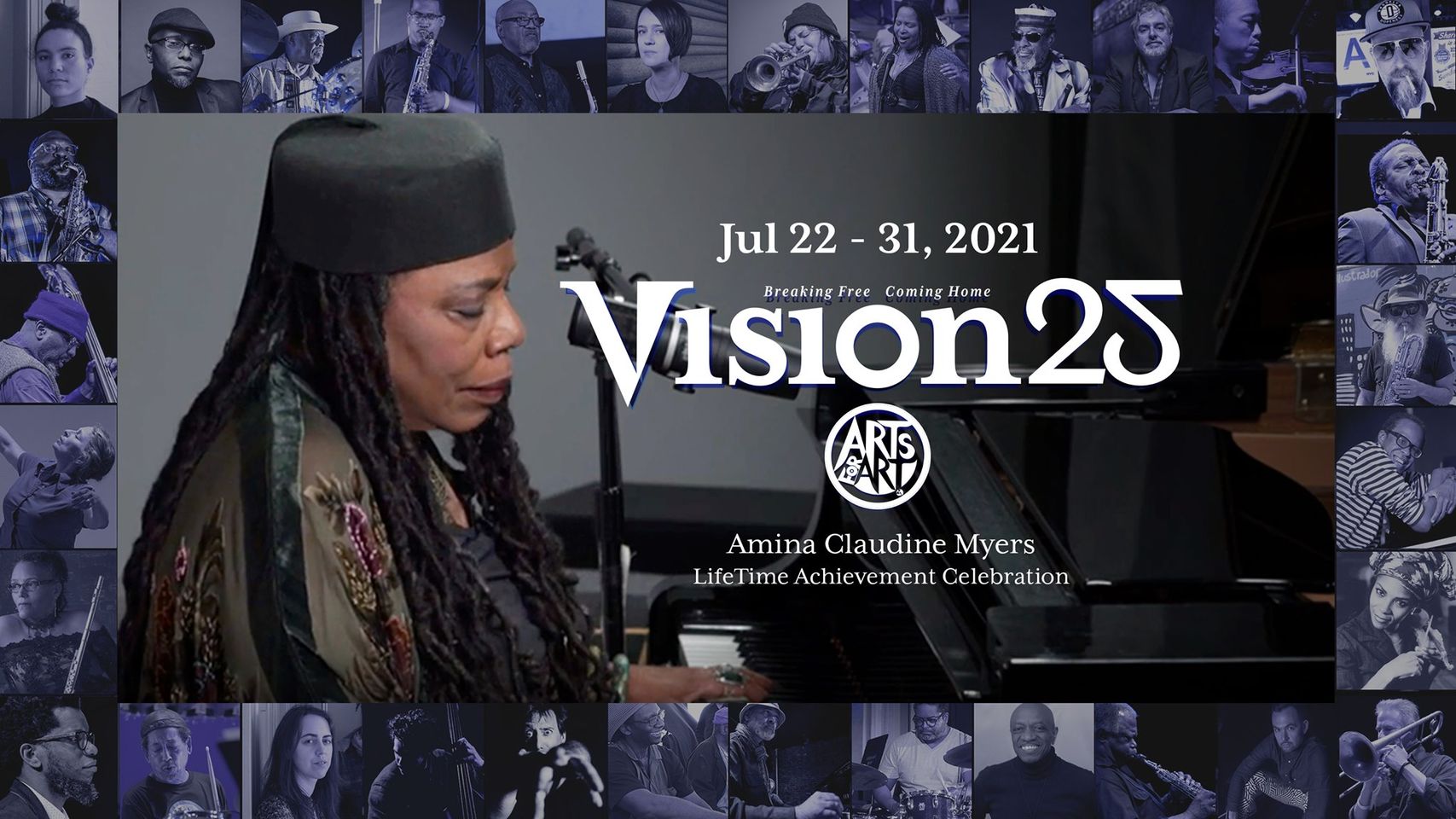 On THURSDAY, JULY 22, 2021 AT 5 PM CDT – 9:30 PM CDT Arts for Art is awarding Amina Claudine Myers with the Lifetime Achievement Award at Pioneer Works in Red Hook. Patricia Spears Jones will be reading a few poems that night. Get tickets ASAP!
This year, Arts for Art proudly celebrates 25 years of a collective artistic vision. Vision Festival 25: Breaking Free, Coming Home will bring together the buoyant voices of hundreds of artists of various disciplines—Free Jazz, poetry, visual arts, conversations— to speak the message of hope and justice with unfettered creativity.
Since 1996, the Vision Festival has created and guaranteed a space for improvisation as a leading creative language, and has been named "one of New York's most essential art events" by The New York Times.
Vision 25 will take place over seven nights, July 22-23 and 29-30 at Pioneer Works in Brooklyn, and July 24-25 and 31 at The Clemente in the Lower East Side, and all events will be in-person, outdoors and livestreamed. Tickets are available now at Eventbrite.
Find more info below on the schedule of performances at Pioneer Works.
VISION 25 Performance Schedule at Pioneer Works:
THURSDAY, JULY 22
6:00pm Opening Healing Ceremony
7:00pm Music for a Free World Septet
8:00pm Matthew Shipp String Trio
9:00pm Dave Burrell & Darius Jones Duo
10:00pm Cooper-Moore Solo
FRIDAY, JULY 23 Amina Claudine Myers Lifetime of Achievement Celebration
6:30pm The Amina Claudine Myers Voice Octet
7:30pm Poet Patricia Spears Jones
8:00pm Generation IV
9:00pm Reflections: A Portrait of Amina Claudine Myers
9:30pm The Amina Claudine Myers Trio
THURSDAY, JULY 29
6:00pm Elder Ones
7:00pm James Brandon Lewis Quartet
8:00pm Julie Ezelle Patton Rock Paper Twister
8:45pm Mara Rosenbloom Presents Flyways
9:45pm Trio 3 + Special Guest
FRIDAY, JULY 30
6:00pm Brandon Lopez Trio
7:00pm Ingrid Laubrock's Monochromes
Commissioned by NYSCA
8:00pm jaimie branch fly or die
8:45pm Moten / Lopez / Cleaver
9:30pm David Murray Octet Revival
Commissioned by Chamber Music America
First Posted on the Pioneer Work Facebook.