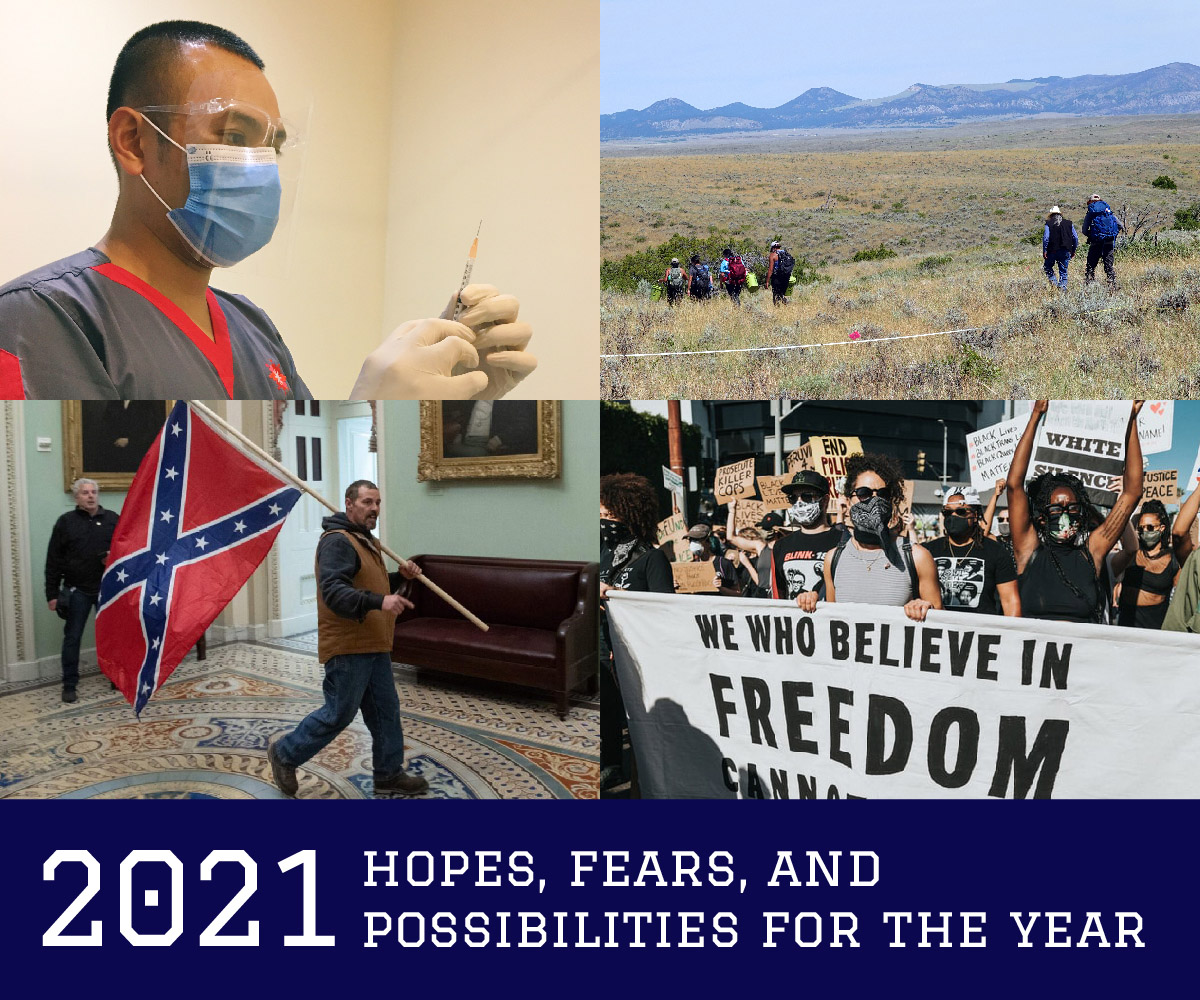 Photo credits, clockwise from upper left: Kristine Wook, Cristina Eisenberg, Nathen Domlo, wusa9.com
By Flo Golod
Exit Trumplandia, and we're back in the USA of neo-liberalism. Team Biden, governing with a calmer hand, should open space for advocates with a laundry list of 101 urgent reforms to counter the inequities that have festered and grown for the last half century. Biden won't slow our disastrous growth economy, the main driver of the climate crisis. Nevertheless, challenges to militarism (first up: the illegal bombing of Syria in February), climate activism, and economic and equity reforms are useful undertakings that can unite communities and focus their organizing agendas.
In Minneapolis, the spotlight is on policing. Our community is anything but united. Still reeling from the May 2020 killing of George Floyd and the ensuing violence and property destruction, Minneapolis is the scene of one of the most fraught and consequential police brutality trials in American history. Derek Chauvin, the cop who knelt on Floyd's neck until he died, is now on trial, charged with 2nd degree murder and manslaughter. From jury selection, which begins March 9, through the verdict, likely two months away, thousands are assembling to witness, protest, and (depending on outcome) possibly riot.
Black Lives Matter MN and a coalition of over twenty local groups are mobilized and already furious with City and State leaders they accuse of militarizing the trial zone. The City of Minneapolis, along with the FBI and Homeland Security, launched Operation Safety Net, which has two goals: to prevent property destruction and violence, and to secure people's rights to freedom of expression. The barricading of the downtown government center with cement walls, barbed wire, and closed streets is not signaling much confidence in either goal.
Governor Tim Walz asked the Minnesota legislature for $35 million to bring in cops from around the state as well as the National Guard. As of this writing, the legislature is deadlocked over police accountability measures that progressives introduced into the funding bill. The GOP-controlled Senate has indicated zero interest in approving anything that includes police reform. Likely, Democrats will have to swallow increased law and order measures to get that big spoonful of requested help.
Scenarios to consider: (a) Chauvin will be convicted on a lesser charge (or possibly acquitted), sending the message that black lives don't matter all that much; (b) people will be justifiably enraged, leading to massive peaceful demonstrations and nonviolent civil disobedience, (c) that mass of bodies will again unintentionally camouflage those intent on property destruction or violence; (d) that rage could be manipulated by right-wing thugs with their own covert/overt agendas; and/or (e) the 3,000+ cops and the National Guard, this time fortified by whatever tactics and weapons constitute a domestic terrorism task force, will again fail or refuse to discriminate between nonviolent demonstrators and whoever may decide to throw a brick or a homemade bomb through a window.
I'd like to believe most city and state leaders sincerely aim for restrained crowd control. Our beleaguered police chief, responding to concerns about cops' ability or willingness to understand the anger that is driving the demonstrations, said that local officers were being educated about the issues and encouraged to communicate with activists who may be able to distinguish angry but not criminal behavior. Local activist leaders are advocating for only peaceful protest but admit they can't control the behavior of the crowds they attract. Some have voiced fear of the consequences if "somebody does something stupid." Anger management on the part of the 3,000+ cops and National Guard who will be deployed near verdict time seems highly unlikely. One threat could trigger the finger of a tense cop or Guard member. One lit match to one homemade incendiary device might launch the full force of a prepared police state.
Despite sound-bite reassurances about security preparations, many local residents are preparing for trouble. In this bizarre and edgy atmosphere, one neighborhood association leader is negotiating with a network of armed neighbors, cautioning them against vigilantism, and asking them to avoid confrontation, yet stand guard while an unarmed person deals with a perceived threat. Another neighborhood leader believes "the misperception of danger has gotten out of hand" and that the City's heavy-handed preparation is creating a climate of fear.
Some shop owners, both downtown and in the neighborhoods ravaged by the May riots, have already boarded up windows and are considering closures or reduced hours, a painful economic prospect for small enterprises just coming out of Covid–19 closures and restrictions. Others are trying to create a sense of calm, planning to keep display windows open and conduct business as usual. City officials and law enforcement have sent them confusing messages, one suggesting they board up and check their insurance policies, another assuring them that preparedness will keep their stores and employees safe.
Meanwhile, a proposed charter amendment is making its way through the City Council, with the intention of placing it on the ballot next fall. The amendment calls for moving the police into a Department of Public Safety and removing the requirement for a minimum number of police. This amendment, highly controversial and frequently misrepresented as defunding or abolishing the police, would take control of the police out of the mayor's hands. Oversight would be shared by the major and thirteen Council members.
Many of us calling for police reform don't support the proposed new department because it dilutes accountability—and because nobody knows what it would actually be or do. This major shift in accountability and power is being debated while Chauvin, and by implication the nature of policing, is being tried as millions watch via livestreaming.
I'm a pacifist. I don't believe guns solve problems. I'm also, most days, a realist. We live in a violent, gun-crazed country, riven by economic and racial injustice. Most of us have neither the temperament nor the training to break up a fight that involves weapons. Until such time when we can effectively address the underlying causes of crime, we will rely on police. The question for now is how to better recruit, train and, most critically, hold them accountable.
As you consider how to exercise your citizenship and protect your right to free speech, keep a watchful eye on Minneapolis. If our elected leadership again fails to balance civil rights with public safety, or if the judge and jury disappoint the people looking to the Chauvin trial for a small measure of justice, if voices of dissent (from any perspective) are suppressed, the resulting fury could again erupt nationwide. Having just (barely) squeezed ourselves out of Trumplandia, we may wake to another nightmare of intense, combative civil discord met by harsh policing and increased civilian surveillance.