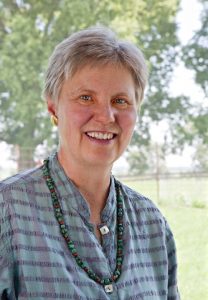 This post was originally published by KCII Radio.
Mary Swander of Kalona was named as a member of the 2022 Iowa Women's Hall of Fame Class on Monday, August 8th, by the Iowa Commission on the Status of Women. Swander grew up in Carroll, Iowa, and attended the University of Iowa before teaching at Iowa State University for 30 years, reaching the rank of Distinguished Professor.
Swander is the co-founder and executive director of AgArts (based in Kalona, IA), a non-profit that imagines and promotes healthy food systems through the arts. She is the host of the podcast "AgArts from Horse & Buggy Land." She has also established residencies for artists on Iowa Farms throughout the state and hosted numerous international artists. She is also the Artistic Director for Swander Woman Productions, a theatre troupe that has toured the country, performing dramas about food, farming, and the wider rural environment.
Joining Swander in the 2022 Iowa Women's Hall of Fame Class are Elizabeth Cowles, the founder of the Civic Music Association of Des Moines; Mary Richards, the first women president of the Iowa Association of County Attorneys; and Laurie Schipper, a community advocate from Des Moines and the former Executive Director of the Iowa Coalition Against Domestic Violence.