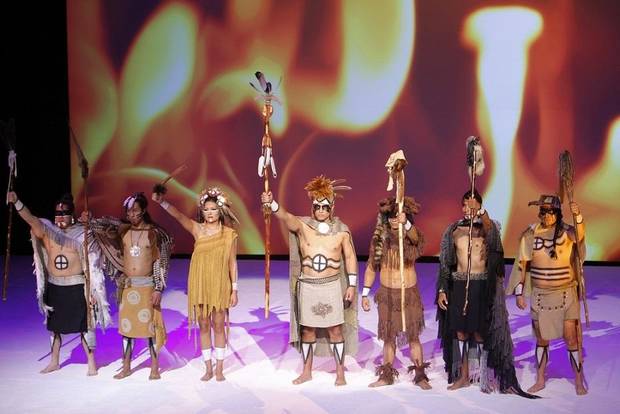 Linda Hogan recently had a Libretto featured in "Fire and Light" by Jerod Impichchaachaaha' Tate.
Here are the interviews from this performance. For photos and videos of the event, click here.
---
'Fire and Light': OKC Philharmonic to perform work by local Chickasaw classical composer
Jerod Impichchaachaaha' Tate believes his music is right at home on a program alongside French composers Claude Debussy and Maurice Ravel and Argentine tango virtuoso Astor Piazzolla.
"Historically, all the great composers that we know had very heavy ethnic and national identities. There's like all the Russian composers like Rachmaninoff and Prokofiev, Bartok is a Hungarian composer, Debussy is French, and Beethoven is unbelievably German; you can't be more German than Beethoven. So, the thing is their ethnicity spoke very, very strongly through their music, and along with that came all those ethnic sensibilities, including melodies and rhythm and just general ethos of their own culture. So, I'm doing the same thing," said the Chickasaw classical composer.
"So, when Bartok was out recording all this folk music of his own people on wax roll cylinders, he'd bring it back to his studio and transcribe them and then he started to think, 'OK, what can I do with this? How can I break this down? How can I deconstruct my own folk music and reconstitute it onto the stage with a full orchestra?' And that's exactly what he did, and a lot of people do that, all the time, no matter where they come from.
"They're deconstructing their own identity and the reconstructing it into an art form. … One of the most unifying things that's ever happened in human history is fine art."
The Oklahoma City composer will unite with the Oklahoma City Philharmonic Saturday at the Civic Center Music Hall, where his hometown orchestra will perform one of his signature works, "Lowak Shoppala' (Fire and Light), Scene 4: Clans." Additionally, the slate for "Impressionist Variations" will include Debussy's "Printemps," Ravel's "La Valse" and Piazzolla's "Aconcagua," his concerto for bandoneon that will feature soloist Daniel Binelli on the square-built button accordion
"It's three of my favorite composers, so I couldn't be more thrilled," Tate said.
Theatrical work
New Music Director Alexander Mickelthwate contacted Tate soon after he took the position with the OKC Philharmonic. The conductor said he wants to connect the orchestra with Oklahoma's American Indian culture "because that's what we have here — and it's awesome."
"I love this program. It's awesome. It's colorful," Mickelthwate said. "They are all a little bit cinematic. I mean, it's not random that I put those together. The Debussy is a certain soft soundscape, but it's cinematic; it's like a little tiny tone poem. The Piazzolla is cinematic in the sense that it's tango, but it's like the soft impressionist vs. the expressionist tango. So, I love those two combinations together. And the same at the end with 'La Valse,' it's like a little different dance but also very much cinematic … and then in the middle you have boom, here, Oklahoma, with Jerod. But again, it's cinematic with 'Fire and Light.'"
Tate's 12th commission to specifically feature Chickasaw culture, "Lowak Shoppala'" is an eight-movement orchestral suite with each movement or scene depicting different aspects of his tribe's history and heritage. The work features libretto written by Chickasaw author and Pulitzer Prize finalist Linda Hogan and regalia designed by award-winning Chickasaw weaver, fiber expert and textile artist Margaret Roach Wheeler.
"Honestly, it's very much like 'Riverdance' and very inspired by that because 'Riverdance' is scenes of Irish history and culture in a theatric presentation. And I was very inspired by that to do something with Chickasaw culture but with a full orchestra. So, instead of an Irish band, you have an actual classical orchestra," said Tate, whose work has been featured on HBO's "Westworld" and NBC's live musical "Peter Pan."
"Scene 4: Clans" depicts a gathering of the historic Chickasaw clans, which are largely based on animals: Minko (chief), Bird, Alligator, Squirrel, Skunk, Panther and Raccoon.
"This particular scene is of the minko, the chief, calling the clans together, so it's like an abstract expression of that. There are character sketches of the clans orchestrally with poetry about that clan with a live narrator. And then it's almost like literally a slow-motion runway show with a full orchestra: A person then comes in in regalia that's completely historically accurate from about 2,000 years ago, and they just literally move onto the stage and they're just viewed as the poetry and the music is going on. And they take a place and the next one comes in … and then the minko does his final call," Tate said.
"Alexander wants to do it as a theatric production, so we're doing a total 'Lion King' approach in which the clan people are coming through the audience … and we'll have the narrator and the minko up in box seats calling from there down to the audience."
Commissioned by the American Composers Forum, Tate debuted "Lowak Shoppala'" in 2009 with the Oklahoma Youth Orchestra as part of the opening festivities for the Hallie Brown Ford Fine Arts Center at Ada's East Central University. It was performed the next year in OKC at the Creativity World Forum. Since, Wheeler said the 86 outfits she created for the piece have been in storage or on view at the Chickasaw Cultural Center in Sulphur.
"They will be back on stage after 10 years, which is sort of exciting," she said. "My main body of work has been Native American and Chickasaw … and doing costumes with elaborate headdresses and trying to figure out how I can put it all together."
Tate is the second Norman native Mickelthwate has included on the OKC Philharmonic's 2018-19 Classics season. Grammy-nominated harpist Yolanda Kondonassis was featured as soloist on the orchestra's Jan. 26 concert, performing a new piece written for her by another American composer, Pulitzer Prize winner Jennifer Higdon.
"I'm very, very patriotic and loyal to the state of Oklahoma. This is my cowboy and Indian state, and I'm very, very proud of that," Tate said. "This state, not only is it unbelievably diverse, but it's incredibly talented. And there is so much professional musicianship that comes out of this state that's gone all over the world. … One thing that is incredibly unique to this state is that it is Indian Territory, and hands down, there's no other state in the union that has this history. We have 39 tribes here, and then we've got how many countless multiple other ethnicities in the state. So, I think to embrace all that, it just makes sense."
For Tate, having one of his works depicting Chickasaw culture share the program with celebrated classical composers rather than presented as a kind of novelty is gratifying.
"I think it's some of my strongest writing. … and this is like a total Chickasaw classical piece in its content. I'm very tribally content-driven in what I do. I'm a dedicated American Indian classical composer – and I love it. I could do this for 12 lifetimes straight and never run out of material or fun or passion," he said.
"I don't want to be a part of special concerts; I want to be repertoire. And the thing is, I have that demand on myself: I should be. If I'm really taking this seriously, I need to see myself as those composers, in that same company. Of course, this is absolutely a validating experience when I'm programmed like this."
The in-demand composer, who travels frequently for residencies across the country, will be singing in Chickasaw with a male trio during the OKC Philharmonic performance.
"Anytime I can be on the stage performing, I will, because I am absolutely a diva," Tate said with a laugh. "Another reason I'm really excited about this is because the piece isn't easy, and I know the phil is going to knock it out the ballpark. … This is a dream come true. I love my community, and I want that orchestra to show them how much they can just totally kick it."
Oklahoma City Philharmonic's "Impressionist Variations"
When: 8 p.m. Saturday.
Where: Civic Center Music Hall, 201 N Walker.
Concert preview talk: 7 p.m. with Maestro Alexander Mickelthwate in the Thelma Gaylord Theater.
Post-concert Q&A: With Mickelthwate and composer Jerod Impichchaachaaha' Tate in the lobby.