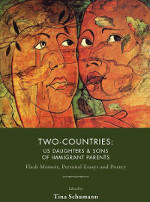 Readings and discussion about the immigrant experience are to take place at the Mesa Public Library's Upstairs Rotunda.
The readings will feature Los Alamos poet Jane Lin and BEI Fellow Lauren Camp, both of whose work is anthologized in the new book "Two-Countries – US Daughters & Sons of Immigrant Parents," edited by Tina Schumann. Following the readings by the two featured poets, there will be an open mike session where people will be invited to read their own short writing about immigration.
The event will take place on Saturday, Jan. 27 from 2-4PM.
For more information about this event and additional programs presented by the Community Services Department of Los Alamos County, visit the
Library page on Los Alamos County's website
or the Community Services Facebook page.