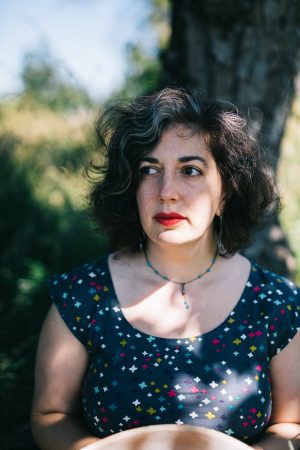 Claudia Savage is an Arab American poet, essayist, and performer; and is a member of the Portland-based performance duo Thick in the Throat, Honey. Her BEI project revolves around a book she is currently writing, "Metal Used for Beauty Alone," which discusses the experiences of those affected by the Syrian refugee crisis. She hopes to eventually construct a full performance of her book, but is currently using specific pieces to choreograph short performances with her music-poetry duo Thick in the Throat, Honey. For instance, she and her ensemble recently performed a sequence about a Syrian woman who lost her children in the war at numerous events across Portland, OR. This project and performance adaptation has received such interest and acclaim that Thick in the Throat, Honey was recently chosen as a semi-finalist in the Creative Capital awards for an expanded performance version of the Syrian refugee project. Savage will learn in October whether her group has been chosen as a finalist.
With her group Thick in the Throat, Honey, Savage has also been hosting collaborative performances between musicians and poets called Iterations, Improvisations and Collaborations, which was recently presented as part of the Passages Bookshop literary festival. This specific performance featured various artists, including Emeritus Fellow Jacquline Johnson, and Savage plans to feature other BEI Fellows in future performances.
Finally, BEI would like to recognize the philanthropic nature of our dear Fellow, Claudia Savage. With the stipend BEI grants to our Fellows to aid in actualizing their projects, Claudia has chosen to give half of each of hers away each year as a scholarship to students of hers with economic hardship that wish to study poetry.