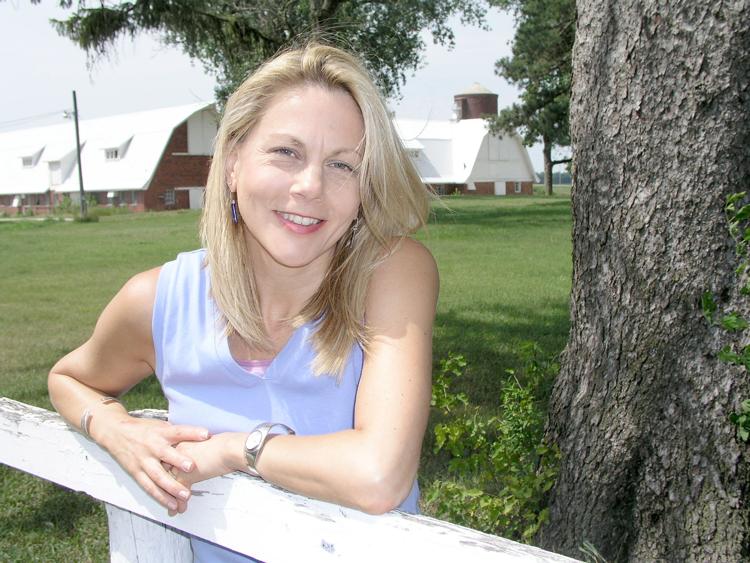 Debra Marquart, BEI Emeritus Fellow, originally appeared on Washington County Pilot-Tribune & Enterprise
---
Meet Iowa's poet laureate (and former rock-n-roller)
By Jeff Morgan, Iowa Culture Wire
In 1980, Debra Marquart had a promising career. The 24-year-old North Dakota native was shooting to stardom as a singer in a band and living life on the road.
But her rock-n-roll dreams went up in smoke, literally.
"We lost everything when our rental truck caught on fire," she said. "We had $60,000 in equipment for a big, all-purpose, six-player rock band, and it was just gone."
Nobody was hurt in the fire, but she and her band mates lost everything they needed to perform – guitars, drums, amplifiers, keyboards, and more. They didn't have insurance on the gear, and their legal options to recover their losses didn't pan out.
The band limped along for another year before calling it quits, so she returned to Fargo to work for a construction company. Less than a year later, she joined another band, Solomon Kane, in Rapid City, S.D. But it eventually broke up, too, and her career as a touring musician quietly faded away.
"It was devastating, and I had a hard time imagining what I was going to do with the rest of my life," she said. "What do you do when your first dream is destroyed, and how do you make a life out of the ashes?  It's hard at 24 to see how long and rich life will be."
That's when she turned to writing, which gave her the means and wherewithal to build a new life. Holed up in Fargo again, she started scribbling rants, poems, and song lyrics in notebooks to vent her intense feelings of loss.
Those musings led to a creative writing fellowship in 1991 at Iowa State University where she received a master's degree in creative writing. She took a job teaching at Drake University, but returned to Iowa State to teach in 1995, the same year her first book of poetry was published.
"I thought I would be here for a year, and I'm still here," she said. "Iowa has been such a nurturing place for me. I came with potential, and the rich fertile ground of Iowa brought everything about me to fruition."
Today, she's a professor of English at Iowa State, an award-winning author of six books, including "Small Buried Things: Poems" (2015) and "The Horizontal World: Growing Up Wild in the Middle of Nowhere" (2007). She has also delivered more than 250 readings and keynotes at universities and conferences across the United States, Greece and Ireland.
She has received more than 50 grants and awards, including a National Endowment for the Arts fellowship, a PEN USA Nonfiction Award and the Wachtmeister Award for Excellence in the Arts.
Her short-story collection "The Hunger Bone: Rock & Roll Stories" (2001) draws on her experiences as a road musician and was awarded the Headwaters Prize, and her poetry collection "From Sweetness" (2002) won the Pearl Poetry Award.
More recently, Gov. Kim Reynolds appointed her as Iowa's poet laureate in 2019. Marquart's two-year honorary post makes her the state's official poetic voice and an advocate for poetry in everyday life.
"I'm just elated because I've always loved traveling around the state and meeting fascinating people," she said. "Poetry has always been a way for me to keep a certain flame alive inside my head."
The poet laureate program is overseen by the Iowa Arts Council and Humanities Iowa, whose executive director, Christopher Rossi, had high praise for Marquart.
"She is a voice of the people and has an off-beaten look at the world that speaks to our rural American heritage," he said. "Her appointment carries on a long and established tradition of which the state should be rightfully proud."
Nearly 30 years after making her initial trek to Iowa, Marquart said the state still fascinates her.
"I used to take Amtrak a lot, and when you get into those beautiful rolling hills, it almost looks like Italy," she said. "I also used to think those Grant Wood paintings were somewhat romantic, but when the shadows get long and the colors pop out, you can really see what he was seeing."
As for her musical pursuits, she is a member of The Bone People, an unplugged rhythm and blues group that sets her poetry to the sounds of mandolins, a bouzouki, hand drums. and other musical instruments.
"I've always turned it back to music because poetry and music are an unbroken form of storytelling," she said. "I'm excited to go out and inspire others to read and write and promote poetry because expression is a balm for whatever ails you."
Iowa's first poet laureate was Iowa Writers' Workshop professor Marvin Bell, who served two terms beginning in 2000. The following two poets laureate were Robert Dana, a former World War II radio operator who taught for 40 years at Cornell College, and Mary Swander, a professor emerita of English at Iowa State University.