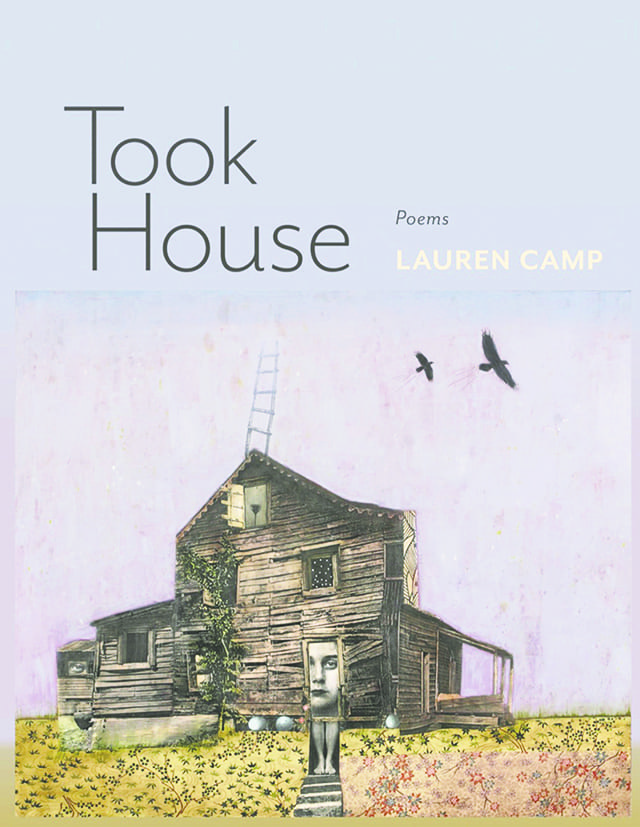 Lauren Camp was recently mentioned in an article published by RDR News.  Christina Stock makes her recommendations on the best way to spend an evening; A comforting meal with a comforting book.
By Christina Stock
In these past months, since the pandemic hit the state and forced us to stay home, many may have splurged on their daily meals. I know I did. It is no surprise, that the miracle that is our body, occasionally will send us some health advice in the form of "appetites."
This happened to me this weekend. I was not in the mood for anything heavy, or for any meat. Looking back, I remembered one of my favorite dishes from my travels through the Cyclades. The Cyclades is a group of Greek islands that are located just southeast from mainland Greece and its major city Athens. There are 220 islands belonging to the Cyclades, most of them are small and uninhabited. The most famous one is Santorini, which some researchers say may have been part of the legendary Atlantis.
During my travels, I have visited the charming island with its white buildings and blue roofs and doors, however, my favorite island in the Cyclades is one that is rather unknown for foreigners. It's the island of Andros. The island is only two hours away from Athens by boat, which makes it a favorite for Athenian families to get out of the city on the weekends. I took my first trip to Andros in May of 1988 and fell in love with the arid climate, steep rocky coastline that was ideal for divers such as myself, who preferred free-diving to scuba diving. I stayed in a tiny hotel across from the tourist town of Batsi, on the other side of the bay. The family who ran the tiny motel served, of course, authentic Greek dishes, which are mostly vegetarian or with goat meat. Meat was a delicacy because the rugged island didn't provide enough food for animals such as pigs or cows, only goats and chickens could survive, everything else had to be brought in by boat from Athens.
Remembering my stay and all the wonderful, simple dishes, I decided to make one fairly simple potato dish, which I am sharing here. You can serve it as a side dish, or like Greek islanders, as a main course. If you have a Greek spice mix, you can use it, or you can make it yourself.
Greek potatoes with Tzatziki dip
Ingredients for the Greek spice mix:
Spices:
1 Tbsp ground coriander
1 Tbsp ground cumin
1 Tbsp dried marjoram
1 Tbsp dried thyme
1 Tbsp garlic powder
2 Tbsp dried oregano
1 Tbsp ground black pepper
1/2 Tbsp paprika, hot or sweet
Preparation of the Greek spice mix:
Mix in a bowl and put in a clean jar. It will keep 1/2 year without losing its flavor.
Ingredients for the Greek potatoes:
1 large potato, cut in even thick slices
1/2 sweet onion, sliced
2 garlic cloves, minced
1 Tbsp cooking olive oil
salt
2 Tbsp of Greek spice mix
Preparation for Greek potatoes:
Either cook the potato sliced in boiling water for 5 minutes, or cook them with a little water in a microwave-proof bowl for 2 1/2 minutes on high in the microwave. Let cook and remove all moisture from the potatoes with a paper towel.
In a large pan, heat the olive oil until it starts shimmering. Spread out the potato slices so each has space and lays flat on the pan. If need be, you can do it in several batches.
Turn each potato slice after 2 minutes to fry it evenly on both sides until they are golden brown.
Remove the pan from the heat and put the potato slices on a plate or two. Sprinkle the potatoes with the Greek spice mix evenly and repeat for the other side.
Return the pan on the stove and put the heat on medium. Add the onions and garlic and fry until they are just translucent, not brown. Return the potatoes to the pan and heat everything up.
Serve right away with Tzatziki yogurt dip.
I used a store-bought Tzatziki dip, you can find it either as Tzatziki or as dill/cucumber dip in your grocery store.
Books for comfort:
Lauren Camp
"I want to talk about what I believe is beautiful, and this is complicated by all the oil of that year. The muscle of my mind was worn out. I was painting everything at once, painting until the impulse died, and began again."
"Find the Color of Survival" by Lauren Camp
Lauren Camp, a member of the New Mexico Author Co-op, is — like many of her fellow authors — missing the interaction with her readers, either in a bookstore or auditorium. She writes that she craves the chance to watch words move through real space, not pixels, from the writer speaking toward the audience listening.
Camp's genre of choice, or rather passion, is poetry — an almost overlooked way of artistically expressing one's inner movements. She has five volumes of poetry published, most recently "Took House," that came out in August. Camp is winner of the Dorset Prize, has received fellowships from The Black Earth Institute and The Taft-Nicholson Center. She is a finalist for the Arab American Book Award, the Housatonic Book Award and the New Mexico-Arizona Book Award.
This year, Camp was selected to be one of 100 international artists for 100 Offerings of Peace, and as one of 101 women storytellers for The Sheherezade Project. Her work has been translated into Mandarin, Turkish, Spanish and Arabic.
Today, Camp lives in northern New Mexico where she teaches creative writing to people of all ages.
Camp is a visiting writer at the Mayo Clinic in Rochester, Minnesota, and keynote speaker at the New Mexico Alzheimer's Caregiver Conference where she brought an empathic, artistic perspective to doctors, patients and loved ones by sharing her poems on dementia and its effect on families.
Camp describes her newest book, "Took House," as the following: "'Took House' is a disquieting book about intimate relationships and what is seen and hidden. In vulnerable poems of obsession, motivation deep in the background, it follows instead a chain reaction between pain and pleasure. 'Took House' navigates a landscape of bone and ash, wine and circumstance. Boundaries shift between reality and allegory. The unknown appears and repeats, eerily echoing need. Blame, power and disorder hover, unsettling what we know of love."
Camp hopes that readers of "Took House" will be reminded of the desert, which reflects upon her home and its terrain. Readers will find a new view of the seemingly familiar, the poems' meanings mirroring themselves, perhaps.
"Took House" was published by Tupelo Press and is available only as a paperback. For more information visit laurencamp.com.