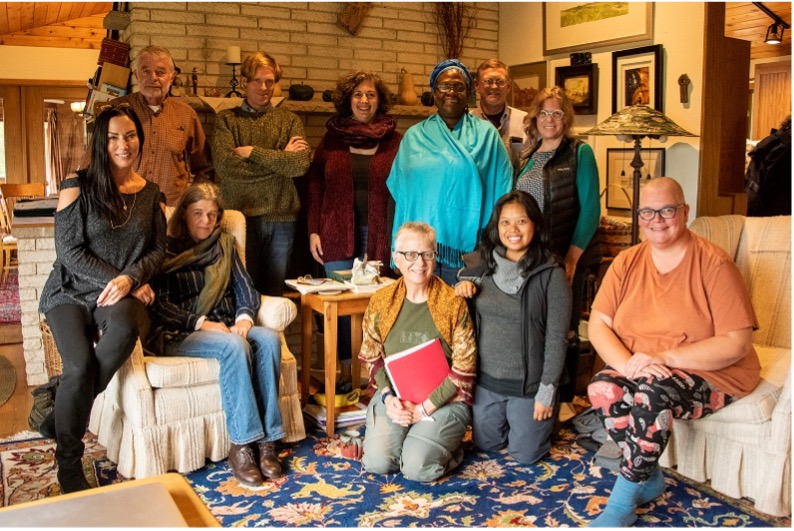 The Black Earth Institute is seeking 8 new fellows for July 2022–July 2025
The Black Earth Institute is a community of creative, committed artists. Established in 2005, BEI is dedicated to supporting art that re-forges the links between spirit, earth, and society, for art and its makers create the space for changing minds and the world. With this as a focus, BEI endeavors to bring together a group of artist-activists, whether in their own fields or general causes, to foment change.
BEI seeks fellows from different genres, such as literary, dramatic, performance and media arts, and journalism. We seek fellows from different points in their life journeys, be they well published or tenured, or new break-through artists with some publication or performance experience, who have gained or are gaining recognition for leadership. BEI will continue its legacy of supporting fellows whose work addresses the urgent social and environmental issues facing the planet. Some feel we are on the edge of an apocalypse and for certain we are on some kind of ledge that calls for a response and a different reality to be. We are looking for powerful voices that can have an impact.
Chosen fellows are invited to join in a national—even global—community, guided by previous fellows and scholars, who share artistic creations and support each other in working toward common objectives. There is interaction both on an organized level and between individuals promoting and supporting each other. These days we can likely see more organized virtual activities.
BEI reaches its goals with its fellows in the following ways:
First, we join together for an annual intensive retreat at Brigit Rest near Black Earth, Wisconsin. For three days, fellows and scholars share ideas, work, space, food, and the land. We wrestle with topics presented by scholar advisers, bring forward experiences in the work of fellows, and make plans for the coming year. This year's retreat will be October 6-9; lodging is provided, and travel is supported. We plan safe retreat facilities and can go virtual if that is proper, given COVID-19 regulations.
Second, BEI supports agreed upon projects for each new fellow, with an annual stipend of $1000.00 each. Support can either be a single major work such as a book, media, drama or performance, public art, or other production over the three years, or, alternatively, for smaller annual projects. Projects will combine the artist's creative direction with the goals and values of BEI.
Third, each fellow has the opportunity and responsibility to set a theme and edit an issue of About Place Journal during their three-year tenure. A separate $1000.00 stipend is provided for this activity. The editor chooses two assistant editors, who are also supported. Readings by contributors of recent issues following publication have reached over 2500 views.
Activities of BEI Fellows are highlighted and promoted in various media, including our website, Facebook, Twitter, and internal communications. There is an active internal life, which includes supporting each other in organizing readings, panels, and communications during the year. Submissions are sought from fellows for About Place Journal. Black Earth Institute Fellows will identify themselves as such on their websites and bios while promoting BEI and its activities in their communities. Fellows are expected to sponsor at least one program a year in the name of BEI and be an active member in the internal life of the organization. For example, previous fellows have sponsored or participated in BEI panels at Split This Rock and AWP, and they have often hosted each other for new book readings, presentations, or performances.
More information about the fellowship and instructions for applying can be found on our website at blackearthinstitute.org/application. Applications must be submitted via Submittable, which will be open for submissions from February 1st–April 1st.