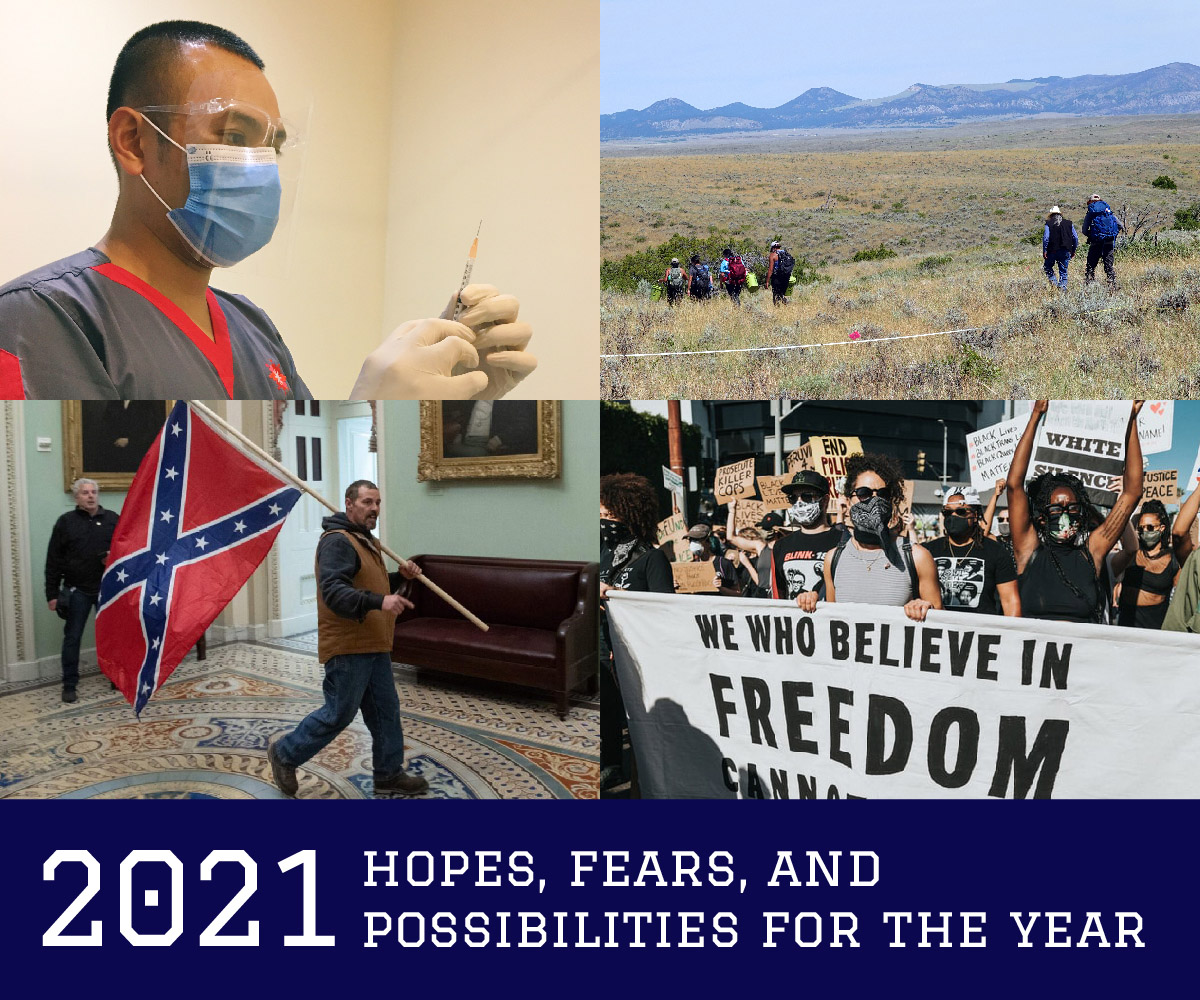 Photo credits, clockwise from upper left: Kristine Wook, Cristina Eisenberg, Nathen Domlo, wusa9.com
By Cait Johnson
When it hurts, we return to the banks of certain rivers.
— Czeslaw Miłosz
Although we live in hope since the election, today, writing something about the present reality can feel like trying to untangle a huge knot made of slimy spaghetti and decomposing guts. Life now is sometimes so painful and depleting that I find myself craving happily-ever-after romances and escapist costume dramas, but after binge-watching or reading fluff for hours, the waves of guilt come crashing down on my graying head: I should be joining protests, marches, writing or phoning my elected representatives, doing something.
But trying to be a good friend and a kind human counts as doing something. Taking time to marvel at the icicles decorating my poorly-insulated eaves, at the grace of my glossy cat, curled like a comma on the foot of my bed, at the breathtaking magenta and turquoise of a winter dawn before the world wakes up and starts their motors—these count as meaningful acts.
Some people, including several of my closest friends, are good at organizing marches and protests, at writing and phoning their elected representatives or anybody else who might be helpful to the cause. Others of us are not. Some of us may be called instead to offer a listening ear and a bowl of soup, or to make a home that feels like sanctuary, or simply to try and remain calm and hopeful so that everyone we come in contact with is, if not uplifted, at least soothed and heartened. The sensitives among us can't help anyone if we are too exhausted and depleted by the horrors of our time to function. And maybe it's not naïve, but an act of great courage to love and celebrate the beautiful, despite the egregious mess we humans have made.
Perhaps some of us need this reminder: we do not have to save the world alone. Do what you can, sure, but maybe one thing we can all do is just try to be kind, not only to other people, but to all beings. To make joy, like making love—by engaging with the activities that that light up our spirits when they have been bruised by ugliness and fear. And to be grateful for our lives and for this magnificent planet. Perhaps these are the rivers that nourish and sustain us.