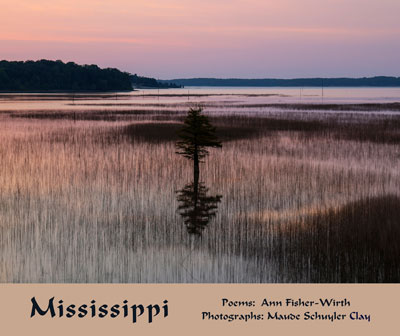 In an unforgettable partnership, BEI Fellow Ann Fisher-Wirth and photographer Maude Schuyler Clay have collaborated on MISSISSIPPI, a gorgeous new book that offers a new spirit of place for their home state.
The book features 47 poems by Ann Fisher-Wirth and 47 color photographs by Maude Schuyler Clay that explore the history, culture, and ecology of the state of Mississippi.Clay is a seventh-generation Mississippian; Fisher-Wirth has lived here for 30 years, so the images and words represent long, complicated accumulations and recombinations of visual and linguistic experience.
"Maude Schuyler Clay's beautiful photographs and Ann Fisher-Wirth's exquisite poems give us the land and heart of Mississippi, the eternal and personal. The damaging political legacy will pass, this art will remain."
The launch reading is February 6, 5 p.m., at OffSquare Books in Oxford, MS. And there will be cake. Come on out to join in the reading, talking, and signing.