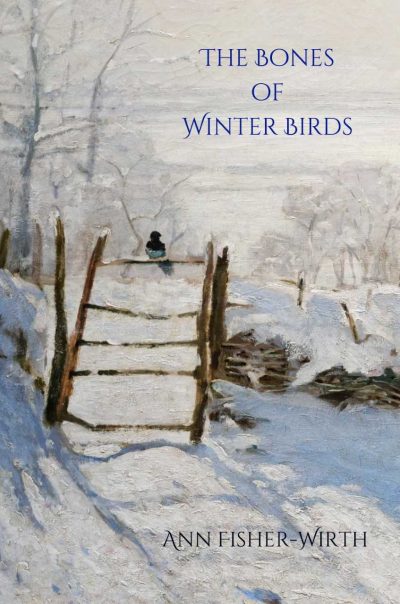 Ann Fisher-Wirth, BEI Senior Fellow, Professor, and new author of The Bones of Winter Birds. Ann's new collection of poetry is published by Terrapin Books, A Poetry Press.
The Bones of Winter Birds is a book of belonging and of seeking, ribboned through with the copious steamy heat of the South and of the body ("salt-stained, rain-scarred, the body wants its forgetfulness and honey"). Love comes in lines of grief and fear, but these poems are also built on the very satisfying nestling-in to ordinary life. Throughout, Fisher-Wirth finds a melancholic reckoning. "Like a summer creek the mother dries up / in me…Enough. All that worrying. // Clawfoot, bone, beak and feather: now let be." Her explorations embed salvaged memories and family concerns, with one rich section devoted to an older sister who didn't want to be known. "Now we go into the woods. Now we go into the shadows." This collection is unafraid to share longing and loss equally.- Lauren Camp, BEI Emeritus Fellow
Ann Fisher-Wirth is the author of five previous collections of poetry. Her fifth book, Mississippi, is a poetry/photography collaboration with Maude Schuyler Clay (Wings Press 2018). With Laura-Gray Street, she co-edited The Ecopoetry Anthology (Trinity UP, 2013). Her work appears in such journals as Prairie Schooner, diode, and Valparaiso Poetry Review. Her awards include two Mississippi Arts Commission fellowships and the Mississippi Institute of Arts and Letters Poetry Award. She was also awarded a 1994-1995 Fulbright to Fribourg, Switzerland, and was 2002-2003 Fulbright Distinguished Chair of American Studies at Uppsala, Sweden. She has had residencies at Djerassi, Hedgebrook, Mesa Refuge, and CAMAC in France, and was the 2017 Anne Spencer Poet in Residence at Randolph College. A senior Black Earth Institute fellow and member of the board, she teaches and directs the Environmental Studies minor at the University of Mississippi, and also teaches yoga in Oxford, Mississippi.
---
Vicksburg National Military Park
When they were my sons,
I pulled the covers up
around their ears
and tucked them in,
smoothed their hair,
kissed their salty eyelids.
Now gingko leaves
make golden blankets
around the tombstone
of a boy from Iowa
and another I can't read,
and another another
another another another
as far as I can see
scattered across the hillside
this autumn and every
autumn beyond counting.