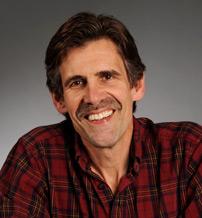 Book review: Memoir redefines meaning of home
"The Long Way Home," a memoir about how travel eventually brings us home, is the April featured selection for Writers and Writing. Author Tom Montgomery Fate is a native of Maquoketa and Iowa City, Iowa.
Fate's memoir explores family, journeys and his inner search for the meaning of life.
"My idea of home has evolved. Now it's less a physical location than a kind of belonging. It's where my sense of being and my vast longings converge into one thing, sometimes wordless – a kind of knowing or belief, that I belong to creation."
Fate's remembrances of fishing with his father and later joining his brothers on canoe trips evoke images of E.B. White's "Once More to the Lake." Fate offers the same sense of timelessness found only in nature. His nature writing approaches the mastery found in Thoreau's "Cape Cod."
Fate is also not afraid to tackle the difficult questions of life. When he decides not to be confirmed because he questions the integrity of his faith, his minister father is understandably outraged. However, his father eventually comes to respect his son's decision.
"He finally accepted that my skepticism and doubt had come from his teaching. Even though I wasn't confirmed, Dad insisted I keep the shiny black, personally inscribed, King James Bible, which was provided for all the confirmands. So I did, but rarely opened it until many years later."
Fate also tackles the problems of today's society head-on.
"The spirals of insecurity and doubt prompted by the pandemic sent Gen Z-s already record-setting anxiety and depression levels soaring. In spite of all the hi-tech apps and options for multi-modal communication, it may be the loneliest generation."
Despite his travels to such far-flung places as Nicaragua and the Philippines, Fate's mind and heart always return to Iowa, the place where dangling a fishing lure into the Maquoketa River as his father looked on meant everything.
"I would learn that I had to leave Iowa to understand all that home could mean," Fate writes.
This is a book that any Iowan or Iowa visitor would thoroughly enjoy. "The Long Way Home" should inspire all of us to look inside ourselves to find that sense of place Fate so ably defines – and what it means to come home.
The Long Way Home
Tom Montgomery Fate
Ice Cube Press
ISBN 9781948509367
$19.99
Michael Tidemann writes from Estherville, Iowa. His Facebook page is Author Michael Tidemann.