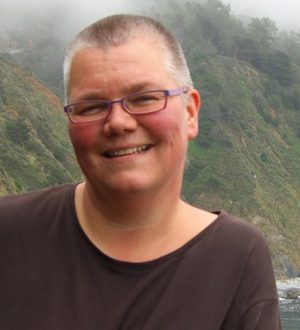 Petra Kuppers lived for 24 years in Germany before careening over to the US via a decade in Wales, and a year each in Aotearoa/New Zealand and Australia. She is a disability culture activist, a community performance artist, and a Professor at the University of Michigan, Ann Arbor.
She uses somatic and speculative writing as well as performance practice to engage audiences toward more socially just and enjoyable futures. Her most recent poetry collection is the ululatory PearlStitch (Spuyten Duyvil, 2016) and the Star Trek-y poetry chapbook Green Orion Woman (dancing girl, 2018). Her book of speculative queer/crip short stories, Ice Bar, just appeared in April 2018. She has also written academic books on disability arts and culture, medicine and performance, and community performance. She lives with her partner, poet and dancer Stephanie Heit, and their muppet dog Trudi in Ypsilanti, Michigan, where they co-create Turtle Disco, a somatic movement and writing space.
Petra also teaches on the Low-Residency MFA in Interdisciplinary Arts at Goddard College, and is the Artistic Director of an international disability performance collective, The Olimpias.