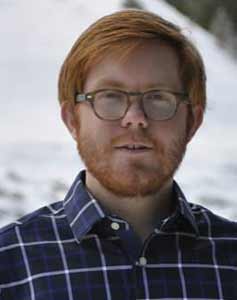 Taylor Brorby is an essayist, poet, and environmentalist. He received his M.A. in Liberal Studies from Hamline University in 2013, and is currently pursuing his MFA in Creative Writing and Environment at Iowa State University.
In 2017, Taylor published his first poetry collection, Crude, as well as a longform essay, Coming Alive: Action and Civil Disobedience, which detailed his arrest over the Dakota Access Pipeline. In addition to his role as Reviews Editor at Orion, the issue of About Place Journal that he edited last year included a Pushcart Prize winning essay.
Taylor's work has appeared in Orion, North American Review, Written River, Rock, Paper, Scissors, The Englewood Review of Books, on Minnesota Public Radio, North Dakota Public Radio, numerous newspapers, Augsburg Fortress, On Second Thought, the Northern Plains Ethics Journal, Chelsea Station, The EcoTheo Review, Sleet Magazine, High Country News, The Loft's Writer's Block, the anthology Kissing in the Chapel, and Praying in the Frat House: Wrestling with Faith and College.
Taylor was awarded fellowships from the Stone Barns Center for Food and Agriculture, as well as the National Book Critics Circle. His grants include Hamline University, St. Olaf College, Iowa State University, the North Dakota Humanities Council, and Taylor received Honorable Mention in The Loft's Mentor Series. He has held residencies at Holden Village, St. Olaf College, Blue Mountain Center, and St. John's University.  He has also lectured at St. Olaf College, the University of Minnesota–Crookston, Concordia College, and Seattle University, and at Holden Village, as well as Luther College, Concordia College, and Augustana College–Rock Island. He is a member of the Association for the Study of Literature and the Environment and the Association of Writers and Writing Programs.
Taylor Brorby is the author of Crude: Poems, Coming Alive: Action and Civil Disobedience, and co-editor of Fracture: Essays, Poems, and Stories on Fracking in America. His work has appeared in The Huffington Post, Orion, and High Country News. He has received fellowships from the National Book Critics Circle, the MacDowell Colony, and Stone Barns Center for Food and Agriculture. He is a contributing editor at North American Review and serves on the editorial boards of Terrain.org and Hub City Press.