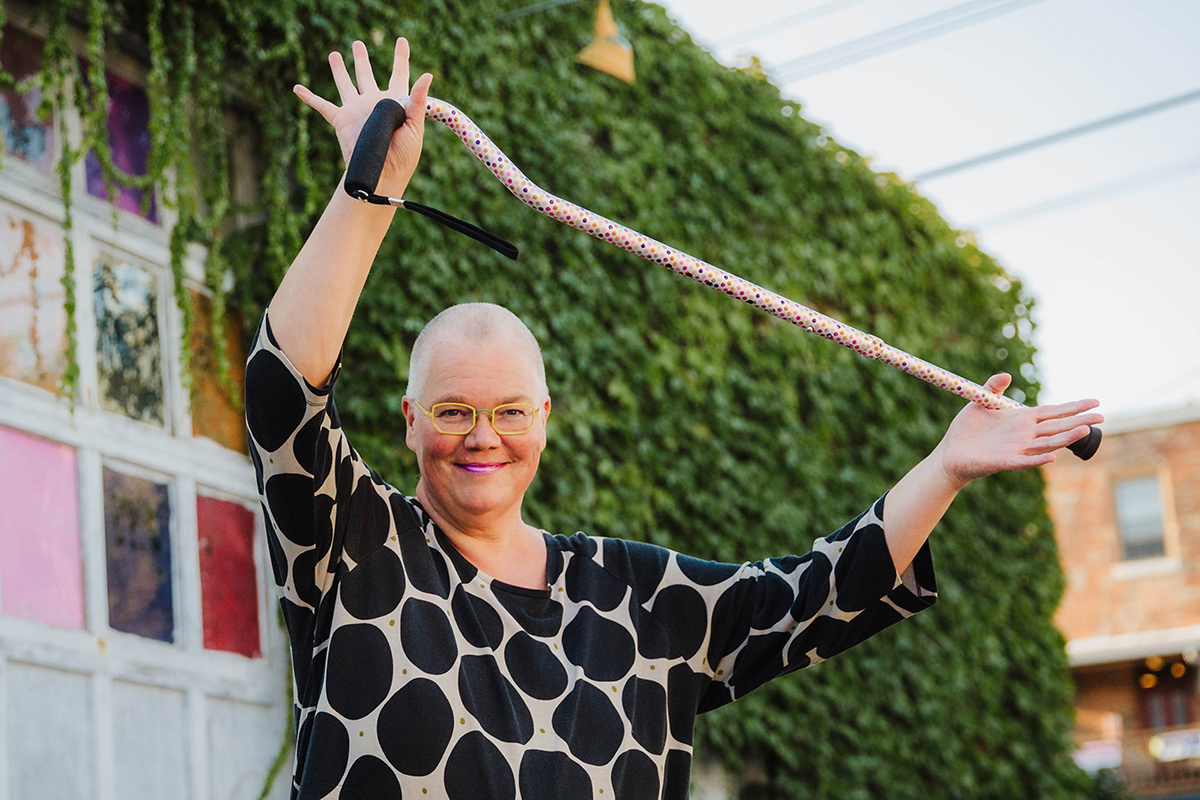 This article was originally published by The University of Michigan.
During Ypsilanti's first Pride Festival in 2017, Petra Kuppers set up a booth called the "QueerCrip Pussy Poets' Rest Stop."
Kuppers and her wife, poet and dancer Stephanie Heit, offered those attending a place to relax and explore poetry by queer authors. Interacting with people with such moving stories about the importance of Pride Day inspired them to launch Turtle Disco, weekly group sessions that incorporated writing and movement.
"I love expressing myself through movement. … There are certain things you can't express in writing that movement can allow me to access," said Kuppers, the Anita Gonzalez Collegiate Professor of Performance Studies and Disability Culture in LSA.
Kuppers, who is disabled and uses a wheelchair, wrote in an essay for Poetry Magazine, "Crip Ecologies: Changing Orientation," that Turtle Disco was created to "cultivate disability culture experimentation, creative self-care, communal inquiry, connection, and awareness."
A self-described wheelchair dancer, disability culture activist and community performance artist, Kuppers is also a professor of English language and literature and of women's and gender studies in LSA; professor of art in the Penny W. Stamps School of Art & Design; and professor of theatre and drama, and of dance in the School of Music, Theatre & Dance.
She learned the value of incorporating art and nature with movement at a young age.
Growing up in Germany, in a small village on the Niederrhein, Kuppers developed a knowledge of "an animate and magical world."
In the mid-1990s, while working at a mental health self-help center in Wales, she collaborated with her colleagues to create an organization called The Olimpias, where she still serves as the artistic director.
The Olimpias is a disability performance artists' collective that explores pride and pain through collaborative, research-focused environments open to all people with physical, emotional, sensory and cognitive differences.
"We were all people who had, in some way or the other, mental health differences," she said. "We all worked together for years exploring local myths, our connection to the land, creating dance movement, and writing."
Kuppers applies many of the philosophies of The Olimpias into her work with Turtle Disco. She said the name derives from two separate meanings grounded in disability culture values.
"A turtle has this different way of movement, a different movement pattern in the world — like so many disabled people do," she said. "Turtle Disco also has an echo of Turtle Island, the Indigenous name for the land that we are on."
During the Turtle Disco meetings, Kuppers and her wife encourage members to express themselves through creative practice and embrace their identity.
"We were able to have lots of local people come and focus on disability and queerness," she said. "Most people were either disabled and/or queer, and we were moving together usually two, three times a week. And then, once the pandemic hit, everything changed."
As the COVID-19 pandemic was particularly dangerous for the disabled and immunocompromised community, Kuppers knew meeting in person was not an option. She and Heit decided to host live virtual meetings during which people could find respite from the stresses of lockdown. The virtual Turtle Disco "Zoomshells" allowed people to "find new ways forward toward sociability, connection, creativity and online intimacy," Kuppers said.
One of the sessions that emerged from the online format was Starship Somatics. Kuppers' Movement Research site describes Starship Somatics as gatherings that "engage our bodymindspirits as portals, as trancemobiles that honor pasts and jet us toward speculative futures, among the stars, in flux and transformation."
"We go to different planets together. People either use inner movements or outer movements," she said. "When I'm running these dream journeys, I see some people lying on their sofa and experiencing the movement inside, going on a poetic dream journey. And in the other half of the Zoom squares in front of me, I can see people in their living rooms moving full out, moving on the planet. They're in their dream world, but they're dancing."
This past fall, Dance/USA named Kuppers as one of its 2022 Artist Fellows for her engagement in art for social change. Upon receiving the award, Kuppers said she was "overwhelmed by the kindness of the world, and I am celebrating with my fellow (disability) dance colleagues."
Q&A
What memorable moment in the workplace stands out? 
A few years ago, I wheeled myself to my assigned classroom in Mason Hall and found a delightful surprise: a brand-new crip button (i.e. a door opener) ready to open the door for me. Disability activists on campus had fought for so long for access, and to finally find this tangible bit of hardware on my classroom door reminded me that disabled people can and do shape new worlds. And just this past year, I found the same joy again. There's a new crip button at the English department's office suite door, appearing just a short while after I spoke with our two new LSA disability navigators about how to make my workplace more accessible. These two have been instrumental in shifting our university culture around access, and I am so glad to see all these transformations, making our university a more welcoming place for more of us.
What can't you live without?  
Traveling with my Kindle, my MUJI pens, and my unlined journals made out of repurposed old books.
Name your favorite spot on campus.  
Matthaei Botanical Garden's fragrant and humid greenhouse in mid-February.
What inspires you?  
Healing waters around the world; dance, somatic and performance practices; disability culture hang-outs; and freewrites by our local lakes.
What are you currently reading? 
Khadija Abdalla Bajaber's "The House of Rust."
Who had the greatest influence on your career path?
German choreographer Pina Bausch.