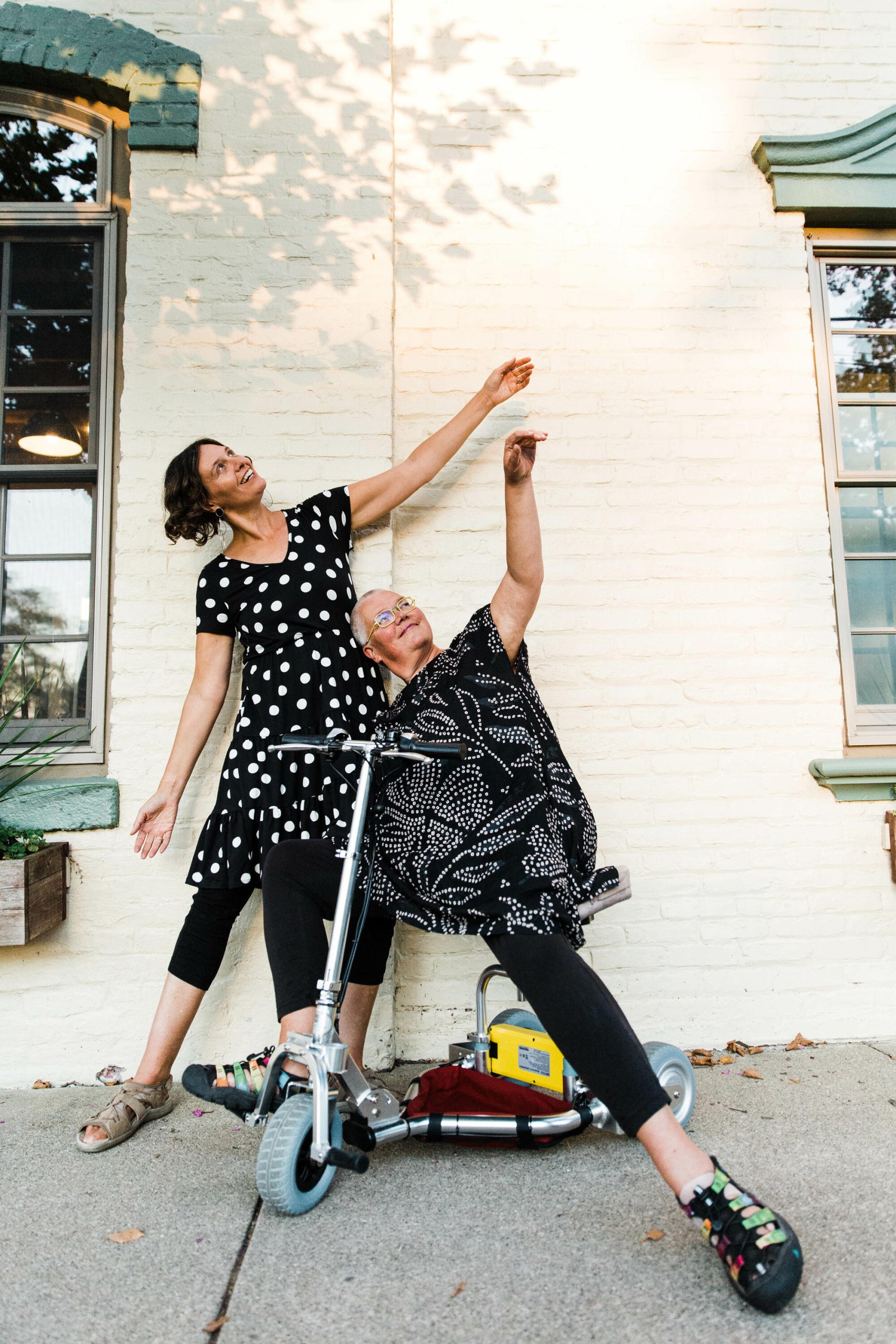 To register for this event, click HERE.
Thursday, October 27, 2022, 12:00PM to 1:15PM (EDT)
ONLINE | Pain and Joy on the Land: A Disability Culture Offering
Virtual
Two white queer cis women, one woman of size, Petra Kuppers, with yellow glasses, shaved head, pink lipstick, and a black dotted top seated on a mobility scooter, one woman, Stephanie Heit, standing with brown bob in a black-and-white polka dotted dress. Both lean back against a cream-colored house wall, and reach upward with their left arms, smiling, in contact and community play.
Join us for meditative somatic experiences and intimate engagements with non-human others through poetry, movement, and conversation in an offering that invites and celebrates inhabiting our unique bodyminds in tune with the world around us.
Petra Kuppers and Stephanie Heit share disability culture engagements with material creative practices on land and water. Petra will share from Eco Soma: Pain and Joy in Speculative Performance Encounters (University of Minnesota Press, 2022) and Gut Botany (Wayne State University Press, 2020). Stephanie will share from PSYCH MURDERS (Wayne State University Press, 2022).
This presentation is hosted by Professor K(Kristin) Prevallet's class, Advanced Poetry: Ecosomatic Poetry and Performance; it will be moderated by Nico Neufeld.
Presented by the Liberal Arts department at Eugene Lang College of Liberal Arts at The New School.