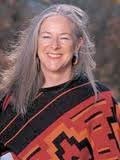 Event details
Tuesday | July 12, 2016
7:00 pm
Museum of Northern Arizona, 3101 N Fort Valley Rd, Flagstaff, AZ 86001
call 928-523-8339 or email nau.ppi@nau.edu
Nearly 70 years after Aldo Leopold's death and not far from where he got his first taste of wilderness, 25 professors from across the country are in the midst of a four-week institute at Northern Arizona University aimed at bringing new life and modern perspectives to the words and teachings of the famous conservationist.
The "Extending the Land Ethic" institute looks at contemporary notions of sustainability that have spawned from Leopold's work, from climate justice to a redefinition of the concept of wilderness.
Guest faculty will give free, public talks at the Museum of Northern Arizona.


Linda Hogan, BEI Emeritus Fellow and (Chickasaw) Faculty at Indian Arts Institute, Former Writer in Residence for The Chickasaw Nation and Prefessor Emerita from University of Colorado is an internationally recognized public speaker and writer of poetry, fiction, and essays. In July, 2014, DARK. SWEET. New and Selected Poems will be out from Coffee House Press. Her two newest books are Indios (Wings Press, 2012, long poem, performance) Rounding the Human Corners (Coffee House Press, April 2008, Pulitzer nominee) and the well-regarded novel People of the Whale (Norton, August 2008). Her other books include novels Mean Spirit, a winner of the Oklahoma Book Award, the Mountains and Plains Book Award, and a finalist for the Pulitzer Prize; Solar Storms, a finalist for the International Impact Award, and Power, also a finalist for the International Impact Award in Ireland. WW Norton has published her fiction. In poetry, The Book of Medicines was a finalist for the National Book Critics Circle Award. Her other poetry has received the Colorado Book Award, Minnesota State Arts Board Grant, an American Book Award, and a prestigious Lannan Fellowship from the Lannan Foundation. In addition, she has received a National Endowment for the Arts Fellowship, a Guggenheim Fellowship and has received the Lifetime Achievement Award from the Native Writers Circle of the Americas, The Wordcraft Circle, and The Mountains and Plains Booksellers Association. Her most recent awards have been the 2016 Thoreau Prize from PEN, and the significant Native Arts and Culture Award.