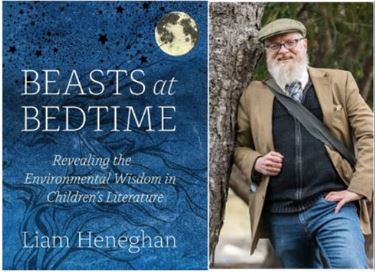 Event details
Thursday | February 21, 2019
4:00 pm
Storrs Campus Konover Auditorium, Dodd Center
Teale Lecture: Dr. Liam Heneghan, Professor of Environmental Science and Studies at DePaul University.
Beasts at Bedtime: Revealing the Environmental Wisdom in Children's Literature
Thursday, February 21, 2019 4:00pm – 5:00pm
Konover Auditorium, Dodd Center
Talking lions, philosophical bears, very hungry caterpillars, wise spiders, altruistic trees, companionable moles, urbane elephants: this is the magnificent menagerie that delights our children at bedtime. Within the entertaining pages of many children's books, however, also lie profound teachings about the natural world that can help children develop an educated and engaged appreciation of the dynamic environment they inhabit.
In Beasts at Bedtime, Liam Heneghan examines the environmental underpinnings of children's stories. From Beatrix Potter to Harry Potter, Heneghan unearths the universal insights into our inextricable relationship with nature that underlie so many classic children's stories. Some of the largest environmental challenges in coming years—from climate instability, the extinction crisis, freshwater depletion, and deforestation—are likely to become even more severe as this generation of children grows up. Though today's young readers will bear the brunt of these environmental calamities, they will also be able to contribute to environmental solutions if prepared properly. Heneghan shows how the nature curriculum is already embedded in bedtime stories, from the earliest board books like The Rainbow Fish to contemporary young adult classics like The Hunger Games.
Liam Heneghan is an ecosystem ecologist, Professor, and Co-Director of DePaul University's Institute for Nature and Children. He is a Dubliner, an occasional poet, a tin whistle player, and a father of two grown children to whom he read every night of their early years.
The Edwin Way Teale Lecture Series brings leading scholars and scientists to the University of Connecticut to present public lectures on nature and the environment. The lectures are open to the public and do not require registration.
For additional information: https://cese.uconn.edu/the-edwin-way-teale-lecture-series/