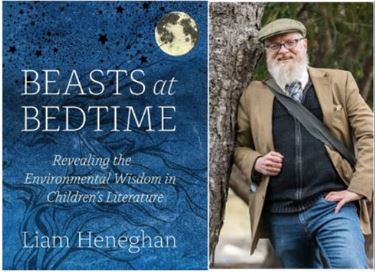 Event details
Tuesday | December 18, 2018
6:00 pm
Booked in Evanston 506 Main St., Evanston, IL 60202
Liam Heneghan, BEI Scholar Advisor, will be at Booked for Fun on Tuesday, December 18th from 6-7pm. Booked for Fun is a family friendly event where Liam will be discussing Christmas books and his book, "Beasts at Bedtime: Revealing the Environmental Wisdom in Children's Literature". He will be putting on an improvised conversation with his younger son (now 22) about the dos and don'ts of storytime.
About Beasts at Bedtime:
Talking lions, philosophical bears, very hungry caterpillars, wise spiders, altruistic trees, companionable moles, urbane elephants: this is the magnificent menagerie that delights our children at bedtime. Within the entertaining pages of many children's books, however, also lie profound teachings about the natural world that can help children develop an educated and engaged appreciation of the dynamic environment they inhabit.
Copies of Beasts at Bedtime can be found here and on Amazon.