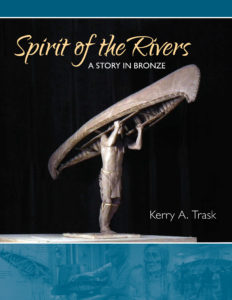 Event details
Saturday | October 20, 2018
11:00 am
LaDeDa Books & Beans, 1624 New York Ave. Manitowoc
Dr. Kerry Trask and Ted Rulseh will be signing their newly published books at LaDeDa Books & Beans, 1624 New York Ave. Manitowoc from 11 a.m. to 1 p.m. Saturday.
Trask's book, "Spirit of the Rivers," details the nine-year development of the newly installed and dedicated monument on the Lakeshore. Trask highlights the process from the serendipitous inception, through the complex stages of the sculpture's development at the hands of artist R.T. "Skip" Wallen.
Known for his talent to make history come alive through colorful storytelling, Trask includes background on the first settlers who called the Lakeshore "home."
For those who enjoy fishing, paddling, swimming, snowshoeing or skiing, Ted Rulseh's "A Lakeside Companion" will deepen readers' appreciation for the forces that shape lakes and the teeming life in and around them. Why do fish jump? Why don't lakes freeze all the way down to the bottom? Which lake plants are invasive? Rulseh, a known columnist and essayist, addresses these and many other questions in his book published by the University of Wisconsin Press.